Posted on
Thu, Feb 4, 2010 : 6:04 a.m.
Ann Arbor Country Club facing lender-forced sale as $1.7M loan called due
By Paula Gardner
Ann Arbor Country Club is facing the bank-ordered sale of its 200-acre
facility in Webster Township after struggling to make mortgage payments
since 2008.

The club - which operates an 18-hole-golf course and touts newer upgrades to
its clubhouse and pool facilities - sits amid the 455-home Loch Alpine
neighborhood, located off of Huron River Drive between Ann Arbor and Dexter.
At issue is a $1.7 million loan balance owed to Citizen's Bank, which
allowed the club to make reduced interest-only payments in 2009.

That arrangement was projected to continue into this year, club officials
told members in late 2009, but the bank notified the club that by falling
below 120 dues-paying members, the club was in default of the agreement.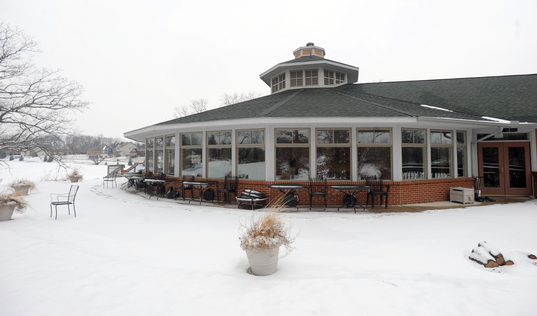 Lon Horwedel | AnnArbor.com
Now the bank appears poised to sell the loan, taking bids from prospective owners and telling the club that members could avoid a third-party sale by purchasing the note.
 According to a letter posted on the
Loch Alpine Improvement Association
web site by President Gregg Heidebrink, "Ann Arbor Country Club, and/or its mortgage, is essentially up for sale." 
AACC president Karen Stevens did not respond to interview requests. However, in an e-mail distributed by the
Huron Heights
neighborhood website, Stevens said the club is holding three bids: One for $500,000 and two for $600,000. 
What that means for the bank and club is unclear, according to the e-mail. "The Club is owned by the Membership, and the Board does not have authority to accept any offers, and if we did, there's no guarantee that the Bank would accept the amounts currently offered - similar to a "short sale" of a home," Stevens says in the email.
Another complication: Pool renovations were funded by an unsecured loan by a member, Stevens said, exposing that member to potential loss as the club grapples with the debt.
According to 2008 federal filings, AACC had $1.511 million in revenue, against $1.709 million in expenses, with net assets of $371,577. The club, which employed 100 in 2008, charged introductory membership rates from $1,800 to $3,800 in 2009. 
Meanwhile, a group of 6 club members recently incorporated with the state as Mag7 Properties Inc, which intends to make an offer on the property, negotiate down the debt total and operate the club with no changes, according to the website. Dick Gibson, one of the Mag7 members along with Stevens, would not comment.
Mag7 member Bill Schnorenberg is quoted on the website as saying that Mag7, if successful in assuming the club's debt, would sell shares in its ownership stake to investors for $5,000 per share. 
AACC members and Loch Alpine residents will meet at 2 p.m. Sunday at the Webster Township Hall to discuss options. 
The AACC property and neighborhood have been linked since the original developer envisioned making it into a golf-centered resort in the 1930s, including building the two lakes that feed into the Huron River, said member John Agno. 
"It's so much a part of the community," he said. "...It would be disastrous it if can't sustain itself."Â 
Stevens wrote in her e-mail that everyone involved intends to keep the club open and operating as usual. She also warned that the club and the neighborhood's stake in the property stands at a pivotal point.
 "If Ann Arbor County Club should be sold at some point, the new owners can do anything they'd like with their newly owned asset," she wrote. "They have no long term tie or loyalty to the community or the AACC membership."
 
Paula Gardner is business news director at AnnArbor.com. She can be reached at 734-623-2586. Sign up here to receive the weekly Ann Arbor Business Review email, delivered every Thursday by AnnArbor.com.