Posted on
Fri, Jan 18, 2013 : 5:58 a.m.
Ann Arbor eatery expands hours to offer lunch
By Angela Smith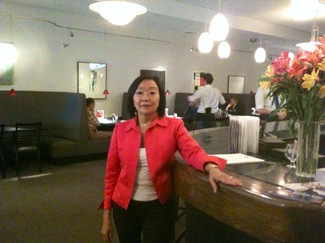 Angela Smith | For AnnArbor.com
Ann Arbor gained a new option for lunch this month.
Mercy's Restaurant, at 300 Thayer, inside the Bell Tower Hotel, recently opened its doors for lunch per the requests of its regular patrons.
Mercy Kasel says she has had a passion for food for as long as she can remember. Kasel worked as a cook in college, and continued working in the food industry after graduating from college and moving to Ann Arbor in the 1970s.
She remembers starting an Asian catering company with Marty Wolf, the Earle's first chef, in 1978. Kasel and her husband also owned Kerrytown Bistro until it closed in 2003.
Steve and Mercy Kasel opened Mercy's in 2010, and Mercy was able to incorporate her own Burmese- and Asian-influenced dishes into the menu.
Get Ann Arbor news in your inbox
Keep your finger on the pulse of the Ann Arbor business community by signing up for the Business Review newsletter sent out early every Thursday morning. You can also sign up for the daily 3@3 email to see our best local stories every day.
With help from Chef
Frank Fejeran
, former chef at Tribute, Mercy's is now offering a special menu for lunch from 11:30 a.m. to 2 p.m. Tuesday to Friday. "(He) is very interested in Asian spices and flavors, especially Burmese because I'm Burmese. He's incorporating Burmese ingredients to our dishes to give them more depth and flavor."
The lunch menu is focused on a small but varied selection of small-plate and large-plate items, which include a selection of vegetarian, vegan and gluten-free meals. Flatbreads, dumplings and ginger marshmallows are all among the menu items that are made fresh in house.
Mercy's also is offering a two for $15 lunch special for Restaurant Week.
"It's a great place for lunch because it's quiet," Mercy notes after the first week of lunch service. "And if people are in a hurry, they can pre-order and the food would be ready for them when they walk in."
Angela Smith is a freelance reporter for AnnArbor.com.