Posted on
Fri, Mar 11, 2011 : 1:08 p.m.
Ann Arbor entrepreneur at hotel in Hawaii is evacuated as tsunami wreaks havoc
By Nathan Bomey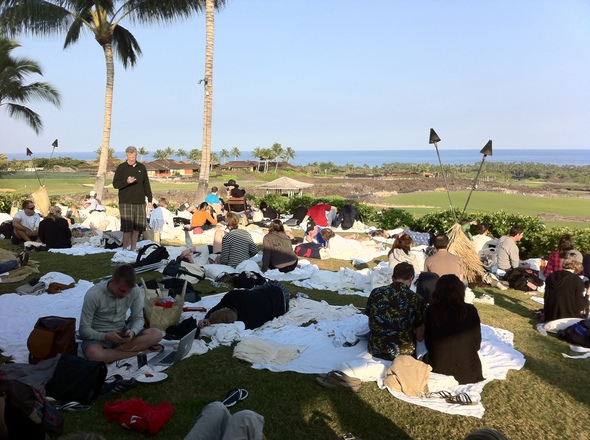 Photo courtesy of David Fry
(Updated: This story has been updated with information after a conversation with Dexter school board President Larry Cobler, who is vacationing in Hawaii, and after Fry's hotel was closed.)
A longtime Ann Arbor entrepreneur is vacationing at a Hawaiian seaside resort that was evacuated last night after a massive earthquake off the coast of Japan triggered a tsunami in the Pacific Ocean.
David Fry, founder of Pittsfield Township-based Fry Inc., is staying with his wife, Meidee Goh, at the Four Seasons Resort in Hualalai, which is located on the northwestern beach of Hawaii's big island.
In a phone interview this afternoon, Fry said the hotel evacuated guests to a golf clubhouse that sits on a hill farther away from the ocean. Many guests slept outdoors last night on the clubhouse lawn and remain there this morning, awaiting authorization to venture back toward the beach.
"All the people in the hotel — so 500 people or something like that — are spread out here on the floor, the couches, the lawn," Fry said at about 6:30 a.m. local time.
National reports indicate that hundreds of Japanese citizens have been killed by the tsunami and that the natural disaster also threatens certain areas of Hawaii.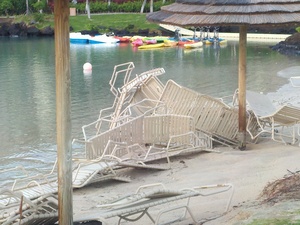 Photo courtesy of Larry Cobler
Larry Cobler
, president of the
Dexter school board
, is also vacationing in Hawaii and is reporting minor damage at his beachside hotel.
Fry's hotel was situated in the tsunami evacuation area and may have sustained damage due to high water levels. He said it's too early to say how badly the hotel may have been damaged but that all hotel guests had been urged to bring their belongings with them to the clubhouse.
The hotel has since said that after an early assessment of the situation, it has decided to close for the day and is offering guests refunds or transfers to other resorts.
Fry had nothing but compliments for the way the hotel has handled the situation. He said the hotel had existing plans in place to handle a tsunami warning.
"It's a very nice hotel," he said. "It sucks to be here, but if you compare our situation with the people in Japan, there is no comparison."
David Fry founded software firm Fry Inc. and built it into a firm with more than 100 employees before selling it in 2008 to Micros Systems. The company maintained its local operation. Fry, an Ann Arbor resident, currently serves as chief technology officer of Pennsylvania-based commercial printing company Fry Communications Inc., his family-owned company, which has more than 1,000 employees.
Cobler is vacationing with his wife, Becky, at the Hilton Waikoloa Village on the beach of the big island. They were transferred last night from a third-floor room with an ocean view to a room on a higher floor and farther away from the ocean.
"I think everyone's pretty well feeling like whatever was going to happen, happened," he said. "But I got up pretty early this morning and walked around just as the sun was coming up and they had probably a six-foot surge here, but there was very little damage.
"Actually the only real damage was, they have a dolphin display and there were some piers that were torn away from the dolphin area. But I don't believe any of the dolphins escaped."
Cobler and his wife arrived in Hawaii on Feb. 28 and are set to depart Monday. They had plans to participate in a whale watch today, but he said it's unclear whether that will still happen. He said at least one isolated area of the resort's grounds was in disarray after waves swept some lawn chairs into a pile.
Contact AnnArbor.com's Nathan Bomey at (734) 623-2587 or nathanbomey@annarbor.com. You can also follow him on Twitter or subscribe to AnnArbor.com's newsletters.