Posted on
Tue, Dec 20, 2011 : 5:59 a.m.
Ann Arbor family will open new restaurant in ex-Flim Flam space
By Paula Gardner
A local family with experience running a restaurant will be opening a coffee house/café in the former Flim Flam Family Restaurant on Ann Arbor's north side.
The Song family signed a lease for the 3,200-square-foot restaurant space on Plymouth Road this month, after the owner of the Flim Flam closed his operation in early November after 30 years.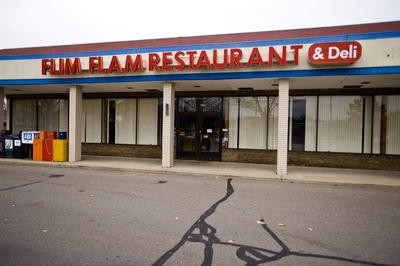 Joseph Tobianski | AnnArbor.com
"We'll be gutting the entire space," said Jenny Song. "We're starting from new. It'll be really exciting."
Song and her mother, Youn Song, will be creating the concept, which so far doesn't have a finalized name.
Youn Song started BeWon Korean Cuisine in Plymouth Green Mall, located about 1/2-mile east of the former Flim Flam space on Plymouth Road.
The malls are owned by the same company - entities of Hutton Management Services - and the Songs' familiarity with the company, the area and the restaurant business all made them stand out among competitors for the location.
Several prospective tenants sought the space, said Bela Sipos of Reinhart Commercial. The landlords wanted a complementary business that wouldn't compete with existing restaurants in their properties.
"It was basically a decision over who would be the best fit," Sipos said.
The space, which seats 125, was listed for $16 per square foot per year. Jenny Song did not have an estimate on her initial investment for the new venture.
The Songs expect to open in the spring, after they conclude the extensive renovations.
Their new restaurant will emphasize brunch and lunch, "focusing on artisan and high-quality ingredients," Jenny Song said.
There will be homemade and locally sourced baked goods, with an espresso bar likely offered in a smaller room that will be located off of the main dining room. In that room, there will be window-side counter seating and a larger eating area "where people can study or gather or come to have a meal," Song said.
The décor, she added, will have both European and vintage influences.
"It will be updated and modern, but with a vintage feel as well," she said.
Song grew up in Ann Arbor, graduating from Huron High School and the University of Michigan before heading to the University of Chicago for a master's of business administration.
She recently returned to town, she said, "so this is also the perfect opportunity to join my passion for entrepreneurship with my mom's experience in the restaurant business. "
Meanwhile, Youn Song sold BeWon a few years ago, but has been wanting to get back into the industry, her daughter said.
Jenny Song said she hopes her new venture adds something unique to the local restaurant scene, which has many chain restaurants outside of downtown.
That local touch, she said, is what she thinks "a lot of Ann Arborites are looking for. … I think there's an opportunity to provide something that's not generic."
Paula Gardner is News Director of AnnAbor.com. She can be contacted by email. Follow her on Twitter.