Posted on
Sun, Jan 31, 2010 : 6:04 a.m.
Ann Arbor-area gas station closings stem from U.S. sales drop
By Paula Gardner
Angela Cesere | AnnArbor.com
Drivers on the east side of Ann Arbor once waited in lines to buy discounted gas at the Washtenaw Mini Mart, the Marathon station next to Arborland Mall.
Then, for a few days in December, signs on pumps advertised that credit card machines wouldn't work.
And just before Christmas, the station closed. So did the station at the northeast corner of Packard and Platt. And by early January, the Citgo on East Stadium posted signs that it no longer was selling gas.
That left many in the region wondering: What's going on with local gas stations?

The Ann Arbor area is witnessing fallout from changes in the petroleum industry as consumption drops, experts said.

"The gas business has changed," said Robert Calmus, corporate spokesperson for Marathon Oil Corp.

The oil company, based in Houston, is warning investors that its fourth quarter results will show a drop in gross profit margin for wholesale sales from 1.25 cents per gallon to 1 cent per gallon.

That scenario is playing out at other oil companies and their distributors across the U.S., as forecasts called for a 6.9 percent drop in consumption from 2007 levels through the end of 2009.

In Michigan, "sales are down 17 percent from where they were in 2004," said Mark Griffin, president of the Michigan Petroleum Association.

"The volume isn't there anymore," Griffin said. "(Station owners) don't make money selling gasoline."

As a result, Griffin said, the number of gas stations is shrinking across the state, while most successful operators seek to expand sales in adjacent convenience stores or carry-out restaurants.

Among the closed gas stations in Washtenaw County:
• 3555 Washtenaw in Ann Arbor, the former Marathon by Arborland, now in foreclosure.
• 4025 Packard at Carpenter in Pittsfield Township, a former Marathon station that was closed when the property owners repositioned it as a development property. It may soon be leased to a new operator.
• 3005 Packard, a former Marathon at the corner of Platt that closed after property owner Randa Hourani filed for bankruptcy.
• 1166 Ecorse Road in Ypsilanti, a former BP station, now part of a court-ordered sale.
• 4005 Washtenaw at Carpenter in Pittsfield Township, a former Mobil station reportedly caught in a partnership dispute.

Meanwhile, the Citgo station at 1500 E. Stadium at Packard stopped selling gas earlier this month. Employees who lease the adjacent service station say it was an issue between the owners and the payment structure with the distributor. Last week, new management took over the station, reactivated gas sales and is rebranding it under Marathon.

Some of the changes don't involve closings.

The Citgo at 2955 Packard, for example, is seeking city approval to expand its retail space.

And the Shell station at 3240 Washtenaw at Huron Parkway has city approval to demolish the existing building and rebuild it to include a Tim Horton's outlet. Gas sales will be a feature of the new station, developer Leo Gonzales of CRS in Plymouth said.

Few "big oil" companies now own retail outlets, Griffin said. Marathon, for example, does not directly own or operate the area's closed stations, Calmus said.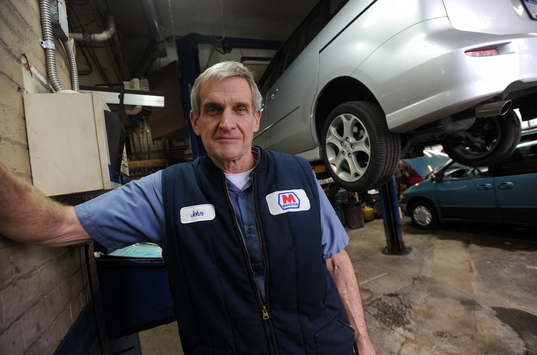 Lon Horwedel | AnnArbor.com
John Mendler, owner of Mallek's Service Station at 1500 Jackson Ave., says his independent Marathon station continues to be profitable amid the industry changes. He pays by the tank when gasoline is delivered, leaving him without a contracted sales volume that he needs to target.
"I'm in an unusual situation. The way that I sell gas is not like most places," he said. "I'm essentially (paying) load to load."
And while he chose years ago not to pursue an expanded convenience store, his adjacent repair business still drives much of his business.
At stations for sale, some of the sales volume is down 40 percent, said Larry Gotcher, a commercial real estate agent at Keller Williams Ann Arbor with two stations listed in Michigan.
"But they're still making money," he said.
Buyers continue to look at the stations. Some, Gotcher said, are first-time buyers, while others seek to add to a portfolio.
He predicts more changes among operators and gas stations in the region.
So does Griffin, who says the ongoing economic climate in Michigan keeps affecting the industry.
"With the economy being what it is, it's very difficult to make money in this business," Griffin said. "It's very competitive. But there are still a lot of gas stations out there. They're just all chasing after 17 percent less sales."
Paula Gardner is Business Director at AnnArbor.com. Contact her at 734-623-2586.