Posted on
Fri, Feb 22, 2013 : 1:56 p.m.
Ann Arbor GDP grows in 2011 but lags behind state and national averages
By Ben Freed
The Ann Arbor area's real gross domestic product increased by 0.3 percent in 2011 according to a report released Friday by the U.S. Bureau of Economic Analysis. The growth rate put Ann Arbor behind both state and national averages, but was the regions second consecutive year of positive growth.
U.S. Bureau of Economic Analysis
Michigan boasted the
6th fastest growth rate in the country
in 2011, with a 2.3 percent increase in GDP.
Holland-Grand Haven
and the
Detroit
metropolitan area
led the state
, growing by 4.2 and 3.5 percent respectively.
Ann Arbor was the 9th fastest growing metropolitan area out of 14 that were measured in Michigan.
Every region in Michigan saw their economy slow in 2011. No metropolitan areas in the state had a shrinking GDP in 2010, but the following year six regions saw their economies contract.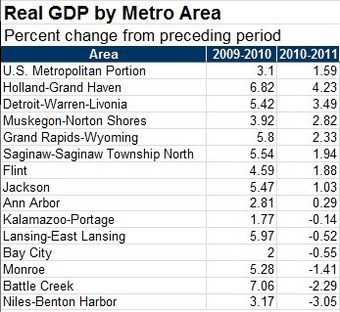 U.S. Bureau of Economic Analysis
The
Niles-Benton Harbor
area performed the worst in the state, with GDP that shrunk by 3.1 percent, the 8th worst rate in the country.
In today's dollars, Ann Arbor's GDP is estimated at nearly $18.7 billion, making it the 115th largest economy in the country. The United State's total GDP is estimated at approximately $13.4 trillion and grew by 1.6 percent in 2011.
According to an MLive report, a BEA economist said an area's economic diversity was a key determinant for its economic growth rate. GDP ratings tend to favor metropolitan areas that manufacture and export in-demand items.
Detroit is the perfect example of how demand can effect an area's fortunes. As the auto-industry has bounced back, Detroit's GDP has grown by 5.4 and 3.5 percent the past two years after shrinking by 11.6 percent in 2009.
Ann Arbor has a more diverse economy, causing its GDP to fluctuate less widely than Detroit's, shrinking by just 5.6 percent in 2009 before growing by 2.8 and 0.3 percent in 2010 and 2011.
Ben Freed covers business for AnnArbor.com. You can sign up here to receive Business Review updates every week. Reach out to Ben at 734-623-2528 or email him at benfreed@annarbor.com. Follow him on twitter @BFreedinA2