Posted on
Sun, Feb 17, 2013 : 5:58 a.m.
Hospice organization starts palliative care service in Ann Arbor for patients in community-based settings
By Julie Edgar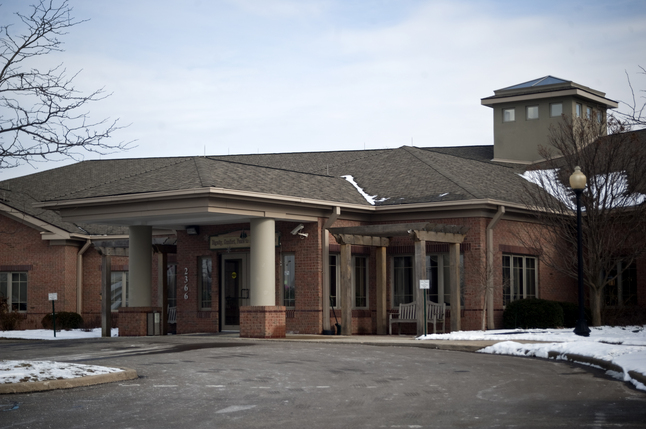 Joseph Tobianski I AnnArbor.com
How do you serve the needs of people with advanced illnesses who don't need the skilled care of a hospital, but still are suffering?
That is a question faced daily by hospitals and one that posed a challenge to Arbor Hospice, an Ann Arbor-based nonprofit that operates a 26-bed hospice residence and provides community-based end-of-life care to 300 patients daily.
"We serve 1,600 to 2,000 patients a year, and about 200 patients get discharged and get better. They don't need home skilled care; they need palliative care. There was nowhere for us to send them," said Gloria Brooks, CEO and president of Arbor Hospice. "In the reverse, we had folks who were a year or two from needing hospice who needed palliative care expertise, but we couldn't serve them."
Seeking to close this gap, Arbor Hospice has launched a palliative care "consultative" service aimed at boosting the quality of life for seriously ill people, outside of a healthcare facility.
Since July, Arbor Palliative Care has served some 45 people in the seven-county region of southeast Michigan, all over the age of 65 and living with diseases ranging from dementia to brain cancer. Most live at home, although APC is making inroads in nursing care and assisted living facilities.
The National Hospice and Palliative Care Organization define palliative care as patient-centered care that enhances a person's comfort and improves the quality of life. It can mean anything from giving anti-nausea medication to a cancer patient undergoing chemo to providing painkillers to a person in his last years of life. An integrative model of palliative care might include a team of doctors, nurses, physical therapists and social workers that addresses the physical and emotional needs of an ill person.
APC is starting with nurse practitioners, board certified in hospice and palliative care, who work with a patient's primary care doctor to develop a medication regimen. The NP makes sure the person understands the care plan and makes adjustments as needed. Referrals come from hospitals and other healthcare centers, among them St. Joseph Mercy and University of Michigan Health System.
"They are the primary care physician's eyes and ears in the home," says Brooks. "Physicians would love to go in the home, but that's not always practical. Our nurse practitioners can do that, report back, and strategize in terms of medication.''
APC also is hiring a medical director to oversee the program.
Brooks said complementary therapies such as acupuncture and massage are not part of APC's wheelhouse.
Medicare Part A covers a maximum 6 months of hospice care, while Medicare Part B will cover most of the costs of APC's services, as will some private insurers, says Brooks. The service generally comes with a copay.
While hospital-based palliative care programs increased by almost 150% from 2000 to 2010, according to the Center to Advance Palliative Care, community-based palliative care is still in its infancy. Numbers are hard to come by, but APC appears to be in the vanguard of a trend that is not only cost-effective but more satisfying to patients who would prefer to die at home.
Research into the outcome of palliative care intervention at home is somewhat lacking, but results generally show a boost in the patient's mood and quality of life and fewer hospitalizations. A Kaiser Permanente study of 300 patients in the last stages of life who received integrated palliative care were happier with their care and less likely to go to the hospital.
Brooks says feedback from families served by APC has been positive.
APC's program manager has reported that families say it's helpful to have someone "connect the dots" from their primary care doctors and get help with their pain and other symptoms.
"They didn't know anybody could do that," she says. "Ultimately, it's reducing costs for Medicare and the stress of the patient and on his family. The point of managing the issues at home is that the care is better. The bottom line is, we want folks to have a better quality of life."
Julie Edgar is a freelance writer for AnnArbor.com.