Posted on
Tue, May 1, 2012 : 4:04 p.m.
Ann Arbor investor buys ex-Fifth Quarter bar
By Paula Gardner
A building on South Fifth Avenue that formerly housed a theater, offices, hookah bar and nightclub over the past two decades was sold Monday to an Ann Arbor investor.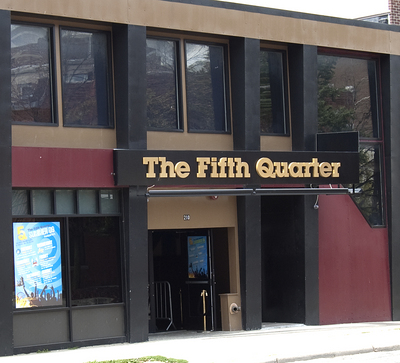 The former Fifth Quarter at 210 S. Fifth Ave.
The building at 210 S. Fifth Ave. - most recently the troubled Fifth Quarter bar - had been listed for sale by its lender, said co-listing agent Deno Bistolarides of Marcus & Millichap in Southfield.
The asking price was $1.4 million when it went onto the market about a month ago, he said.
"It got a lot of interest from a lot of local people," Bistolarides said.
And after multiple offers, a local buyer emerged for an undisclosed price.
That buyer is Jeff Hauptman of the Oxford Companies, which - via investment arms - also has bought two other distressed commercial properties so far this year: Plymouthview retail center on Plymouth Road and Dexter Crossing Shopping Center, a deal that was announced last week.
The building had been listed for sale with an asking price of $1.8 million in March 2011. At the time, it was owned by 210 South Fifth Ave LLC, an entity registered to Jeff Starman. It also operated as the Fifth Quarter amid back tax debt and city concerns of problems on the premises that threatened to affect its liquor license.
The bar later closed and the listing expired. By February, lender Ardent Service Corp. in Ohio had taken possession of the property on a property transfer recorded as worth $1,510,000.
The property has an assessed value of $1.9 million. It sits on 0.18 acre, according to city records, and it has 50 feet of frontage on South Fifth, just south of East Washington.
The activity on the property was encouraging to Bistolarides and his two partners in the listing, Ryan Vinco & John J Godwin.
The speed of the deal also speaks to a market rebound, he said: "A year and a half ago, it wouldn't have even been close (to this fast)."
Ann Arbor remains attractive to national investors, Bistolarides said, given the activity generated by the University of Michigan.
"Ann Arbor is always a town that people are interested in," he said.
However, aspects of this building kept the activity local, Bistolarides said.
"It needed some work on the inside," he said. Its location off of the key pedestrian corridors made it less likely for retail development, and the depth of the lot adds challenges for occupants.
Hauptman was not available on Tuesday to discuss his vision for the property. However, his portfolio - which tops 1 million square feet in Washtenaw County - also includes East Liberty Plaza, the building that houses Afternoon Delight at the corner of South Fifth and East Liberty.
With his latest deal, he now owns two contiguous properties downtown.