Posted on
Sun, Apr 18, 2010 : 5:40 a.m.
Ann Arbor medical device pioneer Dick Sarns was critical to Terumo's success
By Nathan Bomey
It's not a stretch to call Dick Sarns the father of the Ann Arbor region's medical device industry.
The local life sciences industry, however, looks nothing like it did when he launched Sarns Inc. in 1960.
"We didn't know about venture capital" back then, Sarns said.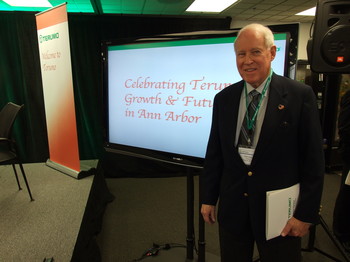 Nathan Bomey | AnnArbor.com
But a lack of traditional funding infrastructure didn't stop his company from developing its heart-lung machine in cooperation with physicians at the University of Michigan. His company had a 55-acre, three-building campus in Scio Township when it was sold to 3M Co. in 1981.
In 1999, 3M was sold to Japanese medical device maker Terumo, which last month celebrated its latest expansion in Scio Township. Terumo now employs about 500 workers in two divisions and still credits Sarns' original company as a pioneer in the medical device sector.
Sarns, 82, admits he originally questioned 3M's judgment when it sold out to Terumo.
"But they chose well," he said. "Terumo is a terrific company, has a lot of in-depth manufacturing capability. They've got a terrific leader in (Terumo Cardiovascular Systems CEO) Mark Sutter doing a great job."
Sarns, 82, who later founded Ann Arbor-based rehabilitation equipment success NuStep recently discussed the 50-year period since he started Sarns Inc. with AnnArbor.com business reporter Nathan Bomey.
AnnArbor.com: What is this experience like, 50 years after you started the company, to see it at this stage?
Dick Sarns: Well, we're very pleased obviously. It was one of our primary goals to build our company in Ann Arbor and stay here. It's a great community.
We have a lot of talented people here to have a business. That requires the technology is here, too. So we're utilizing that pretty well.
AnnArbor.com: How would you describe the life sciences community in Ann Arbor when you started the company in 1960?
Sarns: Well, we didn't know about venture capital. It was sort of money from home.
The thing that really spurred us on was the opportunity to work with surgeons. They were very eager to work with engineers and people in the community.
They needed the tools to do their work in the laboratories to develop the cardiovascular surgeries that are available today.
AnnArbor.com: How would you assess the potential for the medical device industry in this area today?
Sarns: I think it's excellent. It's already been demonstrated. The talent is here and the transfer of technology is here.
All the ingredients are here to utilize the people that are being displaced, particularly in automotive engineering.
AnnArbor.com: How realistic of a transition is that from the automotive industry to the medical device world?
Sarns: I think it's a very natural transition. Early on we would hire graduates right out of college - engineers - and after a couple years we'd lose them, because they would go to automotive because of the salaries that they were paying and benefits.
Then a few more years later they would come back to us, because they would love what we were doing as a company and they could get their arms around a project.
In automotive, they're building millions of cars. In medical devices, you're building hundreds or thousands.
Contact AnnArbor.com's Nathan Bomey at (734) 623-2587 or nathanbomey@annarbor.com or follow him on Twitter. You can also subscribe to AnnArbor.com Business Review's weekly e-newsletter or breaking business news e-newsletter.