Posted on
Wed, Mar 27, 2013 : 2:59 p.m.
Ann Arbor needs more engineers and programmers to fuel new-look auto industry
By Ben Freed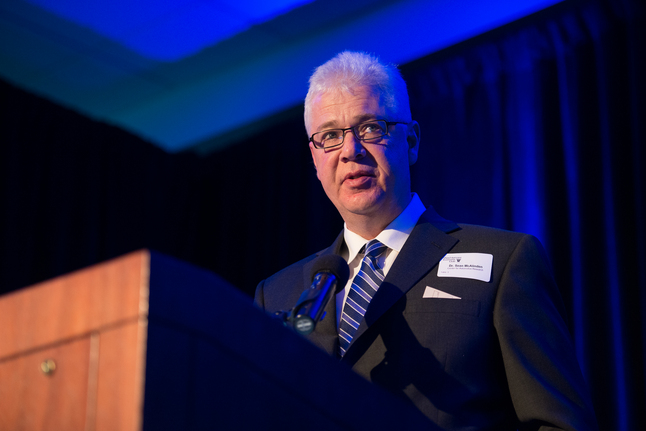 Courtney Sacco | AnnArbor.com
Related:
Michigan already is one of the top research and development centers in the country, but the state will need more highly trained engineers and programmers to keep up with the increased demand from an ever-evolving automotive industry.
Speaking at the Washtenaw County Economic Outlook Luncheon on Wednesday, economists George Fulton and Sean McAlinden said that while manufacturing is returning to Southeast Michigan, greater gains are being made in the development and creation of automotive components than in the heavy manufacturing that was once a central component of the local economy.
"Michigan has 65,000 automotive engineers working at 360 technical centers and is the largest industrial R&D center in the United States outside California," said McAlinden, executive vice president for research and chief economist at the Ann Arbor-based Center for Automotive Research, said.
The economists agreed that these knowledge-based jobs are the future of the economy for the region and that while many positions are filled, there is room for a lot more talent to come to the area.
"For every engineer with at least five years of experience, there are three or four job openings right now," McAlinden said.
"Some engineers right out of school have had some difficulty because companies are hesitant to train new hires in case they are then hired away by competitors for just a few thousand dollars more, but I think that's going to go away soon and you'll see an increase in entry level positions being hired."
This issue of a gap in available talent and hiring practices of companies was addressed at the Governor's Economic Summit held in Detroit March 18 and 19.
The one area where the auto industry is outpacing the talent supply available in Michigan by a wide margin is software developers. According to McAlinden's presentation, Michigan is not a top 10 state in terms of the density of software developers and programmers.
"When we talk about this kind of talent we always say Ann Arbor is where that is," he said. "Well, we need even more now, even Ann Arbor isn't enough of that."
The increase in engineering and design jobs helped support one of the primary theses in Fulton's presentation, that future job growth in Washtenaw County will be driven by "high-wage" jobs. Fulton, director of the Center for Labor Market Research at the University of Michigan, predicts that over the next three years, jobs with annual wages higher than $62,000 will grow by 8.5 percent, far and away the highest gaining sector in the local economy.
Both agreed, however, that the increase in available jobs will have to be met by an increase in talent which means more university graduates choosing to remain in the area or the retraining of older unemployed residents.
While the number of Washtenaw County jobs in automobile manufacturing has dropped from a peak of 19,120 in 1990 to just 4,656 today, the industry is still a major factor in the economic health of the region.
"The high unemployment, the housing crash, everything that happened in 2008 and 2009, those were body shots," McAlinden said in an interview. "They were reminders to the county that 'you're still in Michigan.'"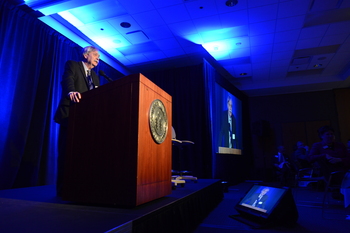 Courtney Sacco | AnnArbor.com
Fulton said that while Washtenaw County's economy is tied into the state's it has recovered from the economic downturn at a much faster pace than much of the rest of Michigan.
"Washtenaw County (and Livingston County) will replenish all of the jobs lost from the recession by 2013," he said. "That's a big deal to people outside the area because they are still really struggling."
Fulton attributed the recovery to the county's relatively diverse economy and said that the gains were spread across most major sectors, especially private sector service providing.
"It's better to see the whole economy improving slightly more gradually than to have it dominated by a couple of industries that are really taking off while others still struggle," he said in an interview.
Just as the automotive recovery has helped the local economy regain its footing, the recovery of the residential real estate market has in turn come full circle and has helped the recovery the automotive industry, the economists said.
Fulton saw the increase in home construction as a sign that the housing market is tight and that prices are increasing. For McAlinden, the upswing means that customers have higher net worth and that construction workers need new trucks.
"We saw a 10.7 percent increase in light truck sales, much of that being pickup trucks as construction of new homes has increased," he said.
"…And when you sell a driveway, we sell some cars. Especially when there's a garage behind it." Ben Freed covers business for AnnArbor.com. You can sign up here to receive Business Review updates every week. Reach out to Ben at 734-623-2528 or email him at benfreed@annarbor.com. Follow him on twitter @BFreedinA2