Posted on
Wed, Oct 3, 2012 : 2:59 p.m.
Ann Arbor Arms: New gun store targets personal safety and sport markets
By Laura Blodgett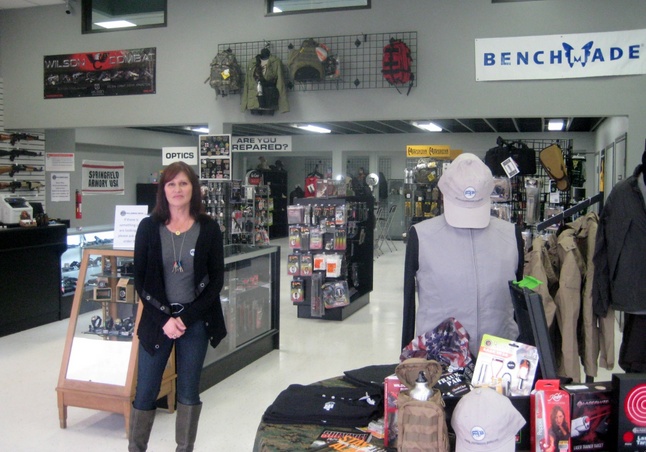 Laura Blodgett | For AnnArbor.com
A new gun retailer called Ann Arbor Arms recently opened on the west side of Ann Arbor.
With the tagline "Defense: Now it's personal," the store is focused not just on guns, but personal safety and preparedness.
Bill Pinon, whose day job is president and CEO of Terumo Heart Inc. in Ann Arbor, and Holli Pinon, his wife, decided to open the store after determining there was a market in Ann Arbor for their niche product.
"One of my passions has always been sport shooting, and there are no gun stores within 45 minutes of here that cater to the type of shooting that I like to do," said Bill, who likes to fly fish and target shoot with a group of local friends made up of business owners, professionals and law enforcement officers.
Located at 5060 Jackson Road in Independence Plaza, east of Zeeb, the Pinons selected the site for its access to I- 94 and affordable lease. They have been pleasantly surprised by the reception since the store opened.
"Everybody told me that Ann Arbor is such a liberal town that is why there are no gun stores here," said Bill. "I was concerned about that."
However, Pinon shares that Washtenaw County has the highest number of applicants in the state for concealed pistol licenses, and 20 percent of the homes in Chelsea have one or more people with a license to carry a concealed pistol.
"There's a lot more awareness about personal protection than people would let on," said Bill. "We really expected to run into some level of resistance, but everybody has said this is great. We've had all walks of life in here."
Laura Blodgett | For AnnArbor.com
The Pinons are quick to point out that theirs is more than just a gun store. They are planning on guns accounting for roughly 30 percent of revenue, while the rest will be made up of sales of merchandise used for survival, hunting and camping.
Specialty items at the store include Eberlestock hunting bags and a Scottevest jacket with 37 pockets, "good for concealment, or for people that like to carry around flashlights, cell phones and car keys," said Bill.
Another big draw will be the classes led by certified instructors held at the store. Upcoming courses in October include Basic Handgun, Concealed Pistol License and "Less than Lethal," which covers how to protect yourself using means such as flashlights, pepper spray, Tasers and even a whistle.
"There are so many things you can do besides guns," said Holli. "A flashlight can be very powerful weapons when shined in someone's eyes."
Teenagers and others who sit and text in cars or walk around with earphones in with their iPods could benefit from a personal safety class, said Holli.
Other future classes will include How to Build a Bug-out Bag which contains equipment that would sustain someone for a certain amount of time such as a pair of boots, socks, gloves and water.
The Pinons, who lived in Florida before relocating four years ago for Bill's position at Terumo Heart, have always been geared to preparedness due to the recurrent hurricanes down south.
"We were down there when [Hurricane] Andrew came through," said Bill."When we moved up here I was surprised by how many people who don't keep a bag in the car even with just some hand warmers and a couple of Clif bars."
In addition to Holli working on site full time, two managers have been hired--one that has a focus on compliance issues and another who has worked in several local retail outfitters. In addition, three part-time workers have been hired who have military or law enforcement backgrounds or are gun enthusiasts. The Pinons are hoping to hire more as business grows.
The store had a soft opening in September, and a Grand Opening with vendors on site will take place at the end of October. John Evans of Swisher Commercial brokered the deal.
The Pinons are not trying to convert people to be "gun people" but to cater to those who want a place to get an education.
"My father was career military and I grew up in Oregon," explained Pinon. "For me, guns have always been something that you are educated properly about. It's like any other tool you would use - you've got to be safe and aware of what you have."