Posted on
Tue, Jul 2, 2013 : 5:56 a.m.
Plans for Hampton Inn site on Jackson Avenue to be reconsidered by planning commission
By Ben Freed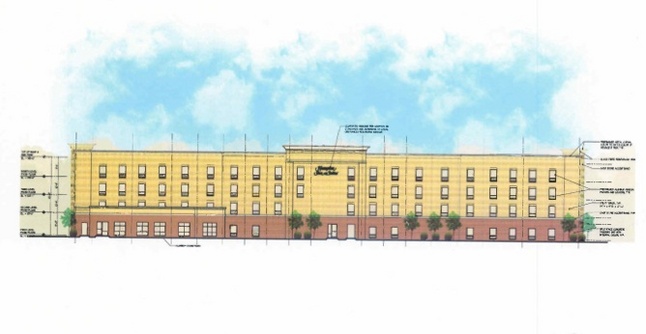 Giffels Webster
A long-dormant hotel proposal will be back in front of the Ann Arbor Planning Commission for the
second time in two months
Tuesday night.
The site plan to construct a new Hampton Inn & Suites on Jackson Avenue was first approved in 2008. Financing issues and the downturn in the hotel industry caused plans to be put on hold and site plan approval for the site to expire.
The commission will decide Tuesday whether to send the plans back to the city council with some minor adjustments to the setback from the main road.
At its last meeting, the commission asked the developers to come up a more pedestrian-friendly plan for the hotel site. After that meeting, Akram Namou of A&M Hospitality and Executive Hospitality told AnnArbor.com he is hoping to quickly move the project forward.
Commissioner Bonnie Bona offered a number of suggestions to Namou at the meeting including making a pedestrian loop around the entire property.
"I think that commissioner Bona wanted them to evaluate the site as if it was a Greenfield site, and to do a pedestrian circulation plan and figure out the parking around that," Ann Arbor planning manager Wendy Rampson said.
"The challenge with this site is that the underground utilities, stormwater drainage and foundation are already in place. It's different from a Greenfield site where you can kind of shift around the buildings."
Rampson said with the constraints they have, the petitioners have made good improvements to further connect the surrounding sidewalks to the building and add some recreational pedestrian amenities.
The new plans call for a 51,608-square-foot hotel with 100 bedrooms on the 8.8-acre property owned by Executive Hospitality Inc. If approved, the new hotel will join a 163-room Clarion Hotel and Conference Center already built on the site. The estimated cost of the project is $800,000.
A former Super 8 motel was removed in 2009 to make way for the new Hampton Inn and a foundation was constructed for the building.
Andy Wakeland of Giffels Webster, the civil engineer for the project, held a citizen participation meeting Jan. 17 to answer neighbors concerns about the project. The developers fielded questions regarding sidewalks, whether another hotel in the area is necessary and if the "cookie-cutter" style of most Hampton Inns would fit in with the local character.
City planning staff have recommended the commission approve the project and send it to city council for final approval.
There are two Hampton Inns in the Ann Arbor area, one near Briarwood Mall and the other off Plymouth Road near U.S. 23.
Related coverage: Ann Arbor Planning Commission asks hotel developer to come up with more pedestrian-friendly plan
Ben Freed covers business for AnnArbor.com. You can sign up here to receive Business Review updates every week. Get in touch with Ben at 734-623-2528 or email him at benfreed@annarbor.com. Follow him on twitter @BFreedinA2