Posted on
Mon, Jul 15, 2013 : 11:55 a.m.
Ann Arbor Planning Commission will consider Tim Hortons drive-thru lane, Glendale condos this week
By Lizzy Alfs
Plans to construct a drive-thru lane to service a Tim Hortons restaurant on Ann Arbor-Saline Road will be considered by Ann Arbor's Planning Commission on Tuesday night.
Abraham Ajrouch, owner of the Shell gas station at 2979 Ann Arbor-Saline Road, wants to construct a drive-thru window and single-lane drive-thru lane on the 1.44-acre site at the corner of Eisenhower Parkway.
Tim Hortons operates a 1,100-square-foot restaurant on the north end of the 4,089-square-foot gas station convenience store.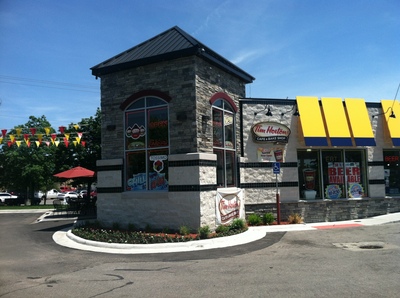 Lizzy Alfs | AnnArbor.com
Ajrouch — who said a drive-thru lane is crucial for Tim Hortons' business — wants to reconfigure the site to create space for the drive-thru, resulting in a net decrease of two parking spaces.
He would relocate an outdoor picnic area, install a brick paved pedestrian path, and install signage to caution pedestrians and drivers to stop before crossing.
The drive-thru lane would be accessed from the Ann Arbor-Saline Road curb cut and vehicles would loop in an east to south direction before existing, according to the plans. No changes are proposed to the gas pump islands.
Ann Arbor planning staff is recommending approval of the plans.
"The proposed revisions to the site provide an overall beneficial effect for the city by creating job opportunities from this drive-thru expansion, adding a gateway sitting area for pedestrians, convenient access to residents and patrons to food and drink, and additional landscaping to enhance the site," a staff report says.
Also on the Planning Commission's agenda is a proposal to construct a 16-unit multi-family condominium project on an unused lot on the west side of Glendale Drive, south of Jackson Avenue.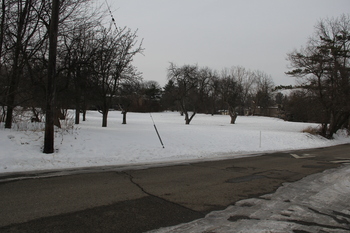 Ben Freed | AnnArbor.com
The project, proposed for a 2.64-acre site at 312 Glendale Dr., would involve demolishing two single-family residences and constructing eight two-family dwellings. The units would consist of ranch-style units with two bedrooms, and each unit would have its own entry and single car garage. Eight additional surface spaces are provided in the plans.
The estimated cost of construction is $2.3 million, according to the plans. Ann Arbor developer Jeffrey Starman owns the property.
Planning staff is recommending postponement of the plans so the developer can address issues related to building orientation, and utility and sidewalk easement. A staff report also says landmark trees should be protected and the soil should be tested for contaminants.
Planning Commission also will consider plans to add 31 parking spaces along the north driveway at the Glacier Hills senior living community at 1200 Earhart Road. The minimum required open space of 67.5 percent of the 31.47-acre site will be maintained, according to a staff report. Staff recommends the plans be approved.
Planning Commission will consider the three requests at its 7 p.m. meeting on Tuesday, July 16.
Lizzy Alfs is a business reporter for AnnArbor.com. Reach her at 734-623-2584 or email her at lizzyalfs@annarbor.com. Follow her on Twitter at http://twitter.com/lizzyalfs.