Posted on
Fri, Oct 22, 2010 : 6:02 a.m.
Ann Arbor real estate beat: What's with 'for lease' signs at 2 downtown Ann Arbor banks?
By Paula Gardner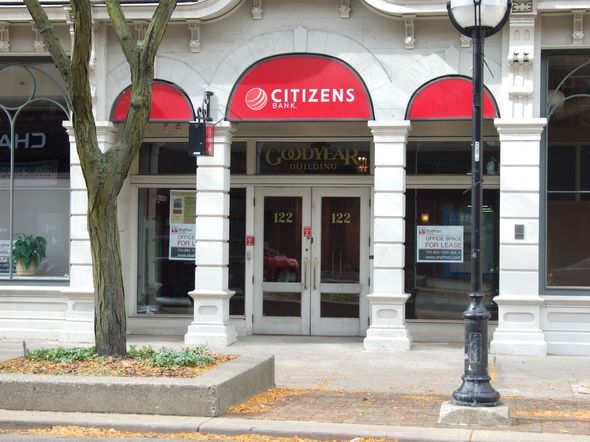 Paula Gardner | AnnArbor.com
The "Office Space For Lease" signs that appeared this week in the windows of
Citizens Bank
in downtown Ann Arbor made me wonder: Is this branch going to be newest downtown vacancy?
Not according to the bank.
"We're expecting to stay," said Brian Smith, spokesperson for the Flint-based Citizens Republic Bancorp, the local bank's holding company.
"We're in the process of renewing the lease."
Landlord Ed Shaffran, who posted the sign on Wednesday, said the bank's lease expires at the end of March.
His take on the negotiations: "They have not notified us that they want to renew, nor have they notified us that they plan on vacating."
His conclusion: "We're not going to sit on our hands. We're letting the community know that it's available."
The space is 4,600 square feet on the first floor of the Goodyear Building, 122 S. Main St.
Four employees work at the branch, Smith said, and the bank wants to keep the same amount of space in the building.
He also said that other Ann Arbor Citizens Bank offices at 2100 S. Main will remain intact.
"We're committed to the Ann Arbor market," he said.
Shaffran, meanwhile, said he'd entertain offers for the space. That part of Main Street would fetch about $30 per square foot, compared to $40 a block south.
Meanwhile, the new signs on South Main also raised questions about the older "for lease" signs at the JP Morgan Chase Bank, 125 S. Main, on the east side of the block, at the corner of East Washington.
Neal Warling of Jones Lang LaSalle has had about 6,000 square feet of ground floor space in the bank's offices for lease for about a year, after the bank's mortgage offices moved out of the 40,000-square-foot building.
The news at that space is that lease negotiations are concluding with a restaurant operator, Warling said. That deal should be signed by the end of the year, bringing some big changes to that corner.
If all proceeds as planned, the building's marble façade could come down - at least for the corner space - allowing a new streetside retail presence to be carved from the long-time office space.
"The plans, which they have to submit (to the city), is open up façade and get some outside dining," Warling said.
He added that the building is outside of the city's Historic District Commission boundary.
And as for the restaurant: Watch for something family oriented, with beer and pizza on the menu.
Paula Gardner is Business News Director of AnnArbor.com. Contact her at 734-623-2586 or by email. Sign up for the weekly Business Review newsletter, distributed every Thursday, here.