Posted on
Sun, Jul 4, 2010 : 6 a.m.
Ann Arbor region's credit unions reap benefits of anti-big bank sentiment
By Nathan Bomey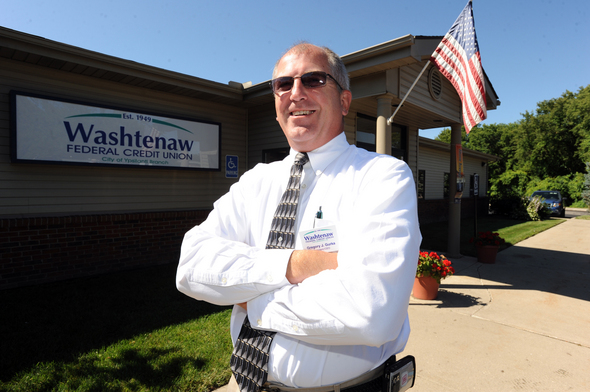 Lon Horwedel | AnnArbor.com
(Note: This story has been corrected to reflect the fact that DFCU Financial is the state's largest credit union.)
As consumers consider alternatives to the big banks whose risky investment practices played a major role in sparking the
financial crisis
, the Ann Arbor region's credit unions are reaping benefits and positioning themselves to gain more customers.
A wave of recent changes for local credit unions illustrates the shifting complexion of the area's financial services sector.
In the aftermath of the financial crisis, the percentage of U.S. consumer deposits held by credit unions increased from 9 percent to 10 percent, according to the New Rules Project's Community Banking Initiative. Federally insured credit unions now hold about $724.8 billion in consumer deposits, according to the National Credit Union Administration.
Consumers are angry at big banks for their involvement in subprime mortgages and complex financial products like derivatives, which contributed to the financial crisis. They have also been attracted to credit unions' nonprofit status, which allows them to return profits to their members instead of outside investors.
That trend is boosting local institutions like the Washtenaw Federal Credit Union, which changed its name Thursday from Ypsilanti Area Federal Credit Union. The institution's deposits have increased from about $25 million at the end of 2008 to $30.5 million today.
"We're seeing them leave other financial institutions to come here to keep their money more local," Washtenaw Federal Credit Union CEO Gregory Gurka said. "I think they feel more secure knowing that we're based within Michigan (and)we're based within their community."
Credit unions based in Washtenaw County had $996 million in assets, 124,000 members and 18 branches at the end of 2009, according to the Lansing-based trade group Michigan Credit Union League.
Total assets for Michigan's credit unions rose 17.5 percent from $32.5 billion in December 2007 to $38.2 billion in December 2009, according to the NCUA. During the same period, assets at U.S. commercial banks rose 5.98 percent to about $11.8 trillion, according to an Federal Deposit Insurance Corp. database.
Michigan Credit Union League CEO Dave Adams said credit unions are benefiting as dissatisfied consumers look to divert their savings to local institutions.
"The credit unions have been the ones that proved that it's not about profit, it's about service," he said. "Whether it was a bad experience causing someone to change or whether it was the negative publicity that big banks have gotten, that is fueling a desire for people to give a second look at their neighborhood credit union."
The trend's not just benefiting credit unions but local banks, as well. As of June 30, 2009, local banks held 23.96 percent of deposits in the Ann Arbor region, up from 22.07 percent at the same time in 2008, according to an annual report by the FDIC.
Despite new interest, executives expect consolidation among local credit unions for the foreseeable future as smaller institutions struggle to address regulatory requirements.
Local credit unions are responding to changes in their industry in several ways:
--The U-M Credit Union in June bought the former Ann Arbor News building to serve as its corporate headquarters as the institution expands its staff to meet new demand. The credit union's assets increased from $350.1 million on Dec. 31, 2007 to $397.5 million on Dec. 31, 2009.
--Dearborn-based DFCU Financial last month agreed to absorb Ann Arbor-based MidWest Financial Credit Union, which had $185 million in assets at the end of 2009. DFCU's assets are nearing $3 billion, making it the state's largest credit union.
DFCU plans to consider opportunities for new branches in the Ann Arbor area, said CEO Mark Shobe.
"It's arguably the best market in the entire state," Shobe said. "For the citizens of Ann Arbor and Ypsilanti, having the benefits of working with a mutually structured organization where they're the primary focus and there's no distraction of the financial investors is a very powerful thing."
--The Ypsilanti Area Federal Credit Union changed its name after the credit union last year opened its membership to anyone who works, lives or worships in the county. The credit union is also building a $750,000 new branch to replace a smaller branch a block south on Whittaker Road.
--The Ypsilanti-based Community Driven Credit Union is placing a greater emphasis on auto loans as many major banks remain selective with credit. The credit union set up a system with several local auto dealerships allowing car buyers to apply for loans through the credit union.
In a typical year, Community Driven Credit Union would have extended $3 million in auto loans, but last year the credit union did $10 million, CEO Kevin Finneran said.
"That was a huge pop for us, and we were able to service people and also help some people and help our bottom line at the same time," he said.
Credit availability was a big selling point for credit unions during the credit crisis. In 2009, Michigan credit unions reported $6.125 billion in auto loans, up from $5.326 billion in 2008 and $4.969 million in 2007.
Though credit unions are benefiting from additional consumer interest, they are feeling pressure to consolidate as the cost of meeting regulatory requirements becomes too onerous for smaller institutions. That leaves less room for smaller credit unions.
As a result, several credit union executives said they expect additional mergers.
"There's more and more regulation and compliance issues," Finneran said. "It's just tougher for the smaller credit unions to comply with things with the resources and staff they have."
Adams said mergers affect about 5 percent of credit unions annually. The number of Michigan-based credit unions dipped from 360 in 2007 to 344 in 2008 and 333 in 2009, according to the NCUA.
"But it translates by and large into a positive thing for the consumer as opposed to being driven by weakness," Adams said. "Large out-of-state banks are not as excited about remaining committed to Michigan when times get tough, whereas when credit unions are merging, they're staying local and they're actually getting stronger and more committed to their communities."
Local banks make that same claim. At the Bank of Ann Arbor, for example, deposits rose 11.5 percent in 2009 to about $52 million, CEO Tim Marshall said.
"People are becoming much more aware of having their deposits work locally," Marshall said. "There's an awareness today that really hadn't been quite there over the past few years. People are attracted to a well-run and financially stable local community institution, and I think that's been our benefit."
Although local banks and local credit unions are benefiting from the same wave of anti-big bank sentiment, they remain fiercely competitive.
Banks still resent credit unions' nonprofit status, which means they don't have to pay taxes. Credit unions argue that they can't participate in certain types of investment activities because of their nonprofit status.
"Bank of Ann Arbor is paying its fair share to the government, and the local credit unions are not," Marshall said. "In essence, they're somewhat government-assisted and government-supported. So if people want to do business with a non-taxpaying, government-supported industry, then that's a primary difference."
Adams argued that credit unions operated more responsibly than traditional banks during the economic crisis.
"I think it's simple. It's been demonstrated to be good tax policy because Congress and the Legislature have upheld credit unions' tax exemptions," Adams said. "That has proven to be a very good public policy because the big for-profit banks didn't exactly operate in a very positive way."
Contact AnnArbor.com's Nathan Bomey at (734) 623-2587 or nathanbomey@annarbor.com. You can also follow him on Twitter or subscribe to AnnArbor.com's newsletters.