Posted on
Sun, May 30, 2010 : 6:02 a.m.
Ann Arbor food distributor relaunches Sweet Distinction chocolate product
By Laura Blodgett
Business in Ann Arbor just got a little sweeter.
Longtime Ann Arbor resident Tom Prescott, whose family owned the E. W. Schmidt Company wholesale food distribution company, has re-launched his patented chocolate product, Sweet Distinction.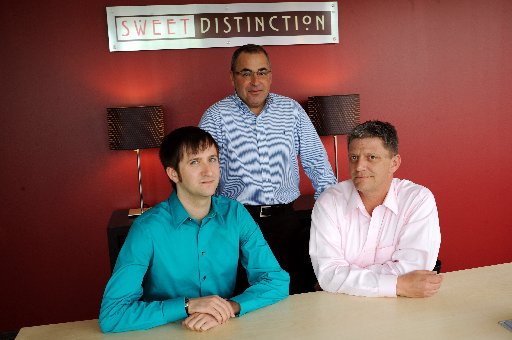 Melanie Maxwell | AnnArbor.com
In the late 1990s, Prescott worked for his father running the food distribution business. As a side business, they also ran a computer software company.
"I was always fascinated by confectionary trends, and because candy wholesalers used our software, we had access to data," said Prescott. "We could do forecasting to determine what would be the next great thing. One day I was having lunch with a friend and this concept hit me."
The concept is a piece of milk chocolate the shape and size of a credit card encased in a tight clear sleeve that enables the purchaser to slide a sentiment card, business card or gift card into its recessed center and affix it to a flower arrangement.
"What we found in the floral distribution industry is that this is an inexpensive way to incorporate the gift of chocolate with the gift of flowers," said Prescott. "It took what was a small cost to the florist—the free small card with flowers—and turned it into a profit for them. In exchange, the consumer no longer has to choose between chocolate and flowers, and has a nice, inexpensive way to 'sweeten' the sentiment."
Created and patented 12 years ago, Sweet Distinction enjoyed great success, running in 10,000 retail stores nationally and featured in Martha Stewart's magazine and coffee table books. After quickly selling 6 million pieces, Prescott closed the doors while in the process of selling both family businesses.
Now a self-defined "starving Realtor," Prescott decided to pick it up again when a former buyer from Kroger, now with Winn-Dixie, approached him a few months ago to see if he was still manufacturing it.
"The last few months have been a whirlwind," he says.
He partnered with friend and local attorney Daniel Hunter and secured 2,600 square feet of warehouse space at 3915 Research Park Drive in Ann Arbor.
The product is being manufactured by Splendid Chocolates with plans to distribute throughout the floral industry nationally as well as the event and wedding industry via a website being developed by Stone Interactive in Ann Arbor.
Currently, there are three employees in Ann Arbor with plans to peak at 12 to 15 people by late fall. In addition to packing and shipping jobs, there will be customer service representatives needed for the event side.
On the retail side, the first real push will be this fall with Winn-Dixie expecting the product to hit its stores in September. The initial count represents 513 retail locations nationwide, in addition to event orders generated online.
"Every indication is saying that we're on to something," says Prescott.
Confection seems to be part of his family heritage. In an interesting twist, Prescott's father Jerry Prescott wrote the locally based murder mystery, "Deadly Sweet in Ann Arbor," in which the murderer always left a candy clue with his victim.