Posted on
Thu, Jan 24, 2013 : 5:59 a.m.
Ann Arbor Restaurant Week helps chefs attract new customers and try out new flavors
By Ben Freed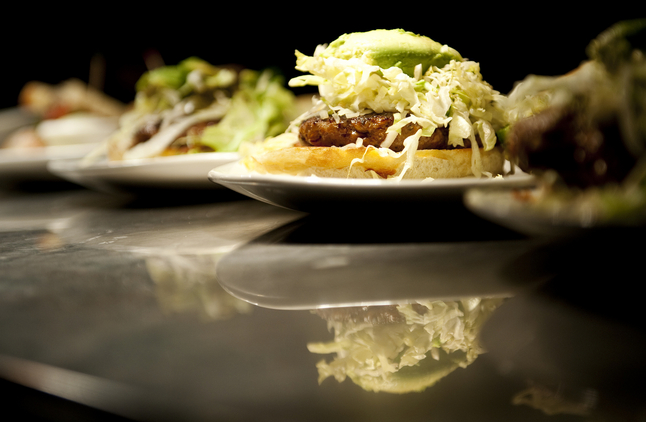 Daniel Brenner | AnnArbor.com
The middle of winter is usually one of the slowest times of the year for restaurants, but one downtown steakhouse will go through 1,000 filet mignons this week.
Businesses across the city look forward to Ann Arbor Restaurant Week, when their seats are full and their chefs can experiment.
Get Ann Arbor news in your inbox
Keep your finger on the pulse of the Ann Arbor business community by signing up for the Business Review newsletter sent out early every Thursday morning. You can also sign up for the daily 3@3 email to see our best local stories every day.
"We love this week in the middle of winter,"
Chop House
district manager
Sue Burke
said.
"We do a 100 percent increase in covers, and about half of those are new customers, people who've never eaten here before."
Businesses up and down Main Street, as well as a few others sprinkled across the city owe a debt of gratitude to the owners of now-closed Bella Ciao, who returned from a vacation in San Diego with the idea of bringing the city's "Restaurant Week" to Ann Arbor.
"The first time we did it was in the summer of 2009, and we had 21 restaurants involved," Main Street Area Association director Maura Thomson said. This January there are 55 participating restaurants, up from 49 last year.
"I like to look at this as a community event, and a lot of our restaurant owners are great team players so they want to be part of something unified."
That feeling of unity has led restaurants outside the downtown core to get involved with the event. Thomson said she does not solicit the participation of restaurants outside the Main Street Area Association, but that anyone can participate as long as they meet the menu criteria.
Restaurants involved in the promotion must offer a $15 or two-for-$15 lunch and a multi-course dinner that costs either $28 per person or per couple.
"Because we're not on Main Street and we're not that far away either, we like to be a part of the community that the Main Street Area Association works to create," Mediterrano manager Ray Borden said.
"We're kind of out of the way, our location is a little obscure, so being a part of restaurant week gives us an exposure that we might not get otherwise."
Mediterrano, on South State Street near Eisenhower Parkway, uses the week to create a menu that combines some of its traditional menu items with new creations. At Cafe Felix on Main Street, the emphasis for restaurant week menus is on creating a new and unique experience.
"For lunch we look to be creative but also keep speed in mind," co-owner Felix Landrum said. "At night people seem to be a bit more laid back and willing to hang out a little bit longer so we have a bit more flexibility there."
Landrum said he enjoys restaurant week, and that it increases his business by about 50 percent versus a normal winter week.
"It creates an interesting situation because you put food out there that isn't necessarily on your menu and you have a lot of first-time customers who are then trying food that you don't necessarily have regularly," he said.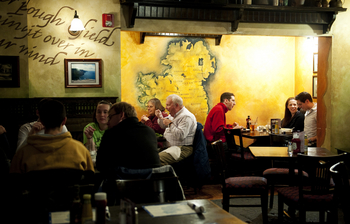 Daniel Brenner I AnnArbor.com
Other restaurants use the week to simply draw attention to items that are already available.
Grand Traverse Pie Company
on East Liberty Street joined restaurant week for the first time this winter, but did not create a special menu.
"Ours is more of an open menu," owner Dave Ziegler said.
"What we're doing is people can come in and order two entrees with two beverages and two desserts for $15… We're trying to attract attention and we're using the week to make people aware that we're here."
Ziegler said he's been very pleased with the response from his first foray into the event. He had no expectations going in, but has noticed a significant increase in new customers.
"We're contemplating running our own similar promotion thought the year occasionally," he said.
"And we'll definitely continue to be a part of restaurant week. It gets people into downtown Ann Arbor and it definitely works for us."
The one demographic that may not be thrilled with restaurant week are the restaurant employees. Landrum said customers are not always as understanding as they could be of the added demands that the week puts on waiters, chefs and cooks.
"I would plead for patience, especially as far as lunch goes," he said.
"We do a three-course lunch, and people come in with only an hour for their break and the place is overflowing and they can get a little testy. Just know that everyone is trying to do their best to serve you the best food possible."
Ben Freed covers business for AnnArbor.com. You can sign up here to receive Business Review updates every week. Reach out to Ben at 734-623-2528 or email him at benfreed@annarbor.com. Follow him on twitter @BFreedinA2