Posted on
Thu, Dec 29, 2011 : 5:12 a.m.
Ann Arbor SPARK Incubator clients awarded $650,000 in business funding
By AnnArbor.com Staff
The Ann Arbor SPARK Foundation recently presented the winners of the Accelerate Michigan Innovation Competition with their cash awards. The competition's grand prize of $500,000 in cash was awarded to DeNovo Sciences, and the competition's $150,000 prize was awarded to Fusion Coolant Systems.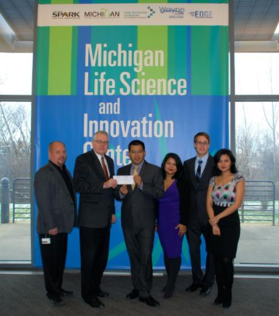 PRNewsFoto/Ann Arbor SPARK Foundation
DeNovo Sciences is a tenant at the Michigan Life Science and Innovation Center and Fusion Coolant Systems is a tenant at Ann Arbor SPARK's SPARK East incubator.
Denovo Sciences and Fusion Coolant Systems plan to use the Accelerate Michigan Innovation Competition prize monies to further their business development goals, including attracting additional capital investments and ramping up commercialization efforts.
Kalyan Handique, CEO of DeNovo Sciences said the company would use the funding to test a prototype so that they will be ready for big fundraising in the coming year, with a goal of raising $6 million in venture capital. DeNovo Sciences is developing an instrument system and reagent kit that allows for the separation, detection and retrieval of circulating tumor cells from peripheral whole blood creating an alternative to traditionally painful and invasive biopsies.
Tom Gross, CEO of Fusion Coolant Systems said the company would use its cash award to invest in marketing and sales materials and product development design initiatives. Fusion Coolant Systems provides an advanced coolant and lubrication system for use in manufacturing.
The three-day Accelerate Michigan Innovation Competition was held Nov. 15-17 at the Eagle Crest Conference Center at Eastern Michigan University.
•Sign up for the weekly Business Review email newsletter here.