Posted on
Wed, Oct 19, 2011 : 5:26 p.m.
Ann Arbor SPARK to provide business services to Livingston County companies
By Nathan Bomey
Ann Arbor SPARK is poised to extend its economic development reach into Livingston County.
The nonprofit group announced this afternoon that it had signed a tentative agreement with Livingston County to provide some economic development services to Livingston businesses for the next three years.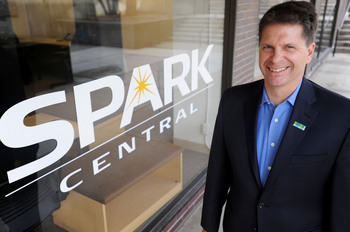 Angela Cesere | AnnArbor.com
The
Economic Development Council of Livingston County
— which represents communities throughout the county — has tentatively approved the agreement, which is expected to be worth about $300,000 a year for SPARK. Details are still being finalized, and SPARK's executive committee must also approve the deal.
Under the agreement, SPARK will focus its services to Livingston on "business attention, expansion and retention," SPARK CEO Paul Krutko told AnnArbor.com this afternoon.
SPARK currently provides a wide range of resources, training, fundraising advice, incubator space and business development to startups, entrepreneurs and established companies throughout Washtenaw County and western Wayne County.
Livingston approached SPARK to discuss contracting with the group to help attract new companies and nurture existing businesses, Krutko said.
SPARK and Livingston had been discussing a deal for months.
"By working with Ann Arbor SPARK, the Economic Development Council of Livingston County is uniquely positioned to review and improve the way it provides services," said Michael Kennedy, Economic Development Council of Livingston County board chair, in a statement. "Ann Arbor SPARK's efforts are a catalyst for our region's continued growth, providing an exciting opportunity to build on the solid, established business base here in Livingston."
Krutko said SPARK would hire two employees at an office in Livingston to handle the expanded services. SPARK has nearly 20 employees overall.
"They looked at what we were doing and they said we'd like to be part of that," Krutko said.
As companies consider locating or expanding in the Ann Arbor area, Krutko said SPARK would continue to maintain an "agnostic" approach regarding the exact municipality in which the company locates. He said SPARK communicates with growing companies to determine their needs and then offers several recommendations for possible places to locate.
Entrepreneurial services funded by Ann Arbor's tax-capturing Local Development Finance Authority are still restricted to the city boundaries, Krutko said.
Also, if a Livingston company wants to lease low-cost startup space from SPARK, it must move to SPARK's incubators in Ann Arbor, Ypsilanti or Plymouth Township.
In 2011, SPARK's core operating budget is $3.07 million. That includes $1.12 million from the LDFA, $250,000 from Washtenaw County, $75,000 from the city of Ann Arbor and $69,400 from other local municipalities. SPARK gets another $1.55 million from other sources, including $350,000 from the University of Michigan and financing from private businesses and nonprofits.
SPARK also manages several statewide investment programs on behalf of various groups including the Michigan Economic Development Corp. — and those programs are available to companies throughout the state.
(Editor's note: AnnArbor.com Executive Vice President Laurel Champion is a member of SPARK's Executive Committee.)
Contact AnnArbor.com's Nathan Bomey at (734) 623-2587 or nathanbomey@annarbor.com. You can also follow him on Twitter or subscribe to AnnArbor.com's newsletters.