Posted on
Fri, Apr 12, 2013 : 4:03 p.m.
Ann Arbor startup Larky helps app users track member discounts
By Ben Freed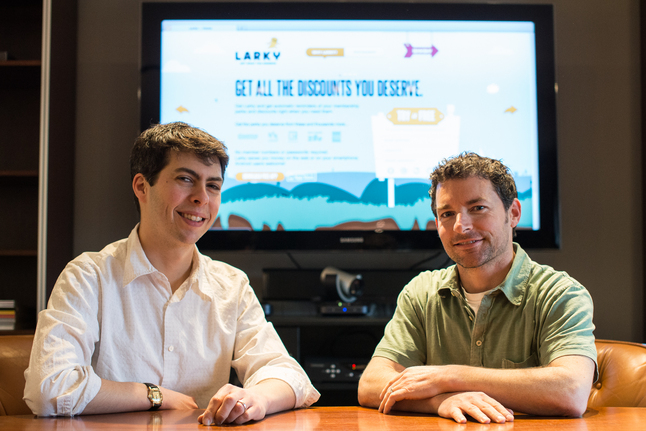 Courtney Sacco | AnnArbor.com
Not every startup can do everything "in house." Most rely on an elaborate network of programmers, designers and funders that can be difficult to manage as it spreads out across the country, or even the world.
When economic development professionals and technology gurus talk about making Ann Arbor into a regional and national tech-center, they often speak of a necessary "concentration" or "density" of technology companies. While the world is indeed flattening and allowing people to work with each other remotely and wirelessly, physical proximity can be catalyst for the magic that occurs when people with big ideas meet the ones who can bring them to fruition.
Luckily for Larky, a startup that launched March 19, Ann Arbor's entrepreneurial ecosystem has developed to a point that the founders were able to find almost everything they needed extremely close to home.
Larky is the brainchild of Gregg Hammerman and Andrew Bank, who were frustrated by their inability to use discounts they were due from being members of organizations or using certain credit cards. The pair came up with an idea for an app that could be used to both show you where discounts were available and alert you to nearby money-saving opportunities.
"We're all entitled to these different perks from museum memberships and other places, but no one can remember what they all are," Hammerman said.
"So from a consumer standpoint it's great. There's no charge, and you're able to take advantage of all of the discounts and benefits that you should have already known about."
Like many tech companies, Larky is able to offer its services to consumers for free by offering details of their habits to the organizations that they belong to. Once an organization signs up with Larky and puts its benefits into the system, Larky tracks what deals members use.
"There's a monthly analytics fee, and they don't get individual user data, but we can tell the organization how many of its members signed up and what they're searching for," Hammerman said.
"That can help them build their program more effectively because if they are trying to get more hotel discounts but more than 90 percent of their members are looking for restaurants, they're wasting their time. We can also tell them in a conglomerated fashion that your members are also members of these other groups."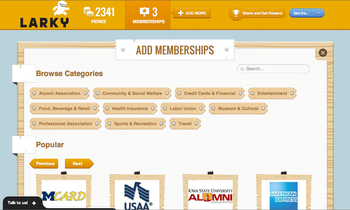 Screenshot
Bringing this technology to launch was no easy task for the co-founders, but Hammerman said the company was able to find much of the support that it needed from other small Ann Arbor companies.
"We worked with Logic Solutions for software development, and Phire Branding really helped us with our design," he said. "And we print most of our materials at Kolossos, so they're local, too."
While the company has been acting locally, Hammerman and Bank have been thinking nationally. Some of the largest membership organizations in America, including AAA and the AARP have signed up to put discounts on Larky as well as a number of large alumni associations. The company also features deals available to owners of Visa, American Express, and MasterCard credit cards.
As part of its goal of attracting vendors and organizations large and small, one of Larky's most recent additions is the getDowntown program in Ann Arbor. In addition to the unlimited Ann Arbor Transit Authority bus usage, go!pass holders get discounts at a number of Ann Arbor locations.
"getDowntown is about riding the bus but it's also about making downtown a more vibrant place and supporting local businesses," program director Nancy Shore said.
"This service will add value to the go!pass that downtown employees can get and will hopefully get them into the door of more downtown local shops and restaurants. We want the pass to be something everyone has in their wallet, not just to use on the bus and Larky will help us do that."
Housed in North Coast Investors' offices, Larky plans to expand slowly as it adds more organizations and discounts to its application. The company raised a $650,000 seed round that they hope will sustain them until they become revenue positive.
"What we told our initial investors we would do is build the product so we can have something useful for the world, and sign up a lot of partner associations. We essentially wanted to prove there was a business here," Hammerman said.
"If we do raise a next round the pitch would be 'we've proven that organizations will pay to work with us, that users are excited and engaged, and now if we have more money we can take the next step.'"
The next step might be the creation of an Android app or a more intense marketing campaign. The company's current marketing strategy primarily hinges on associations and organizations telling members that this new service is available to them.
Hammerman said the company plans to stay in Ann Arbor as it grows. With so many local partners and customers, it's tough to see why it would leave.
Ben Freed covers business for AnnArbor.com. You can sign up here to receive Business Review updates every week. Reach out to Ben at 734-623-2528 or email him at benfreed@annarbor.com. Follow him on twitter @BFreedinA2