Posted on
Mon, Apr 8, 2013 : 2:32 p.m.
Ann Arbor T-shirt shops prepare for mad rush as Wolverines shoot for NCAA title
By Ben Freed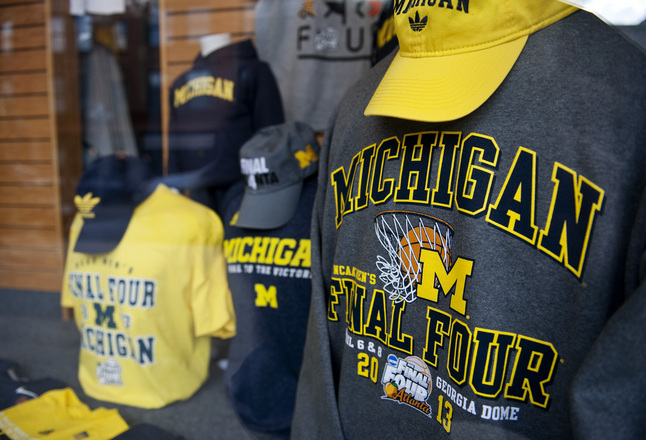 Daniel Brenner | AnnArbor.com file photo
The orders are in, presses are on standby, and shirts, hats and hoodies wait to be printed. All that remains is for
two teams to step on the court
and decide whether a 'Block M' or a Cardinal will be reproduced thousands upon thousands of times.
When the University of Michigan basketball team made the Final Four for the first time since 1993, it was a boon for companies that are licensed to sell U-M apparel. If the Wolverines cut down the nets Monday night in Atlanta, T-shirts and other championship gear will be flying off the shelves.
"We have orders for tens of thousands of items ready to go as soon as they win," M Den President Scott Hirth said.
"We will have thousands of shirts, sweatshirts, hats, 25 different items ready to go in our stores when they open Tuesday morning. We'll have most of our inventory in by 5 a.m."
Hirth said that M Den stores in Crisler Center will be open throughout the official University of Michigan watch party and immediately following the game. He said that there is a chance that the company's downtown store could also open Monday night, though the more likely scenario is that all other M Den stores will open early Tuesday morning.
"A lot of our vendors are printing locally here in Southeast Michigan, so we'll be opening early and monitoring how quickly the merchandise is moving," he said.
"Because our vendors are so close we could be ordering tens of thousands of additional items as soon as Tuesday afternoon."
Underground Printing plans to open its stores at normal time in Tuesday regardless of the game's outcome, but the company has standby orders for more shirts than it has ever had for a single event.
"We're betting pretty heavy that if Michigan wins that this would be a once-in-a-generation-type event for us," co-founder Ryan Gregg said.
"For a lot of schools, you see a national title in a major sport once every 15 years or so. You had basketball in 1989, football in 1997, this isn't the kind of thing you expect to happen or see every day."
One company will be printing a massive number of shirts regardless of the winner Monday night. According to ESPN's Darren Rovell, 76 percent of the teams in this year's NCAA tournament wear Nike apparel, but both Michigan and Louisville have school-wide deals with Adidas.
The teams have both worn the athletic company's "Rise to the Occasion" T-shirts throughout the season. After Louisville's Kevin Ware's gruesome injury in its Elite 8 matchup with Duke, the Cardinal's changed their pre-game shirts to "Ri5e to the Occasion" in his honor.
Gregg said that many of the first shirts produced after a national championship are on white or grey shirts as large vendors hedge their bets by pre-ordering massive amounts of the T-shirts for printing.
"With the neutral colors, you can print on the shirts no matter which team wins," he said.
"When the Tigers lost the World Series to the Cardinals we had ordered a large amount of shirts and actually ended up printing about 20,000 'Cardinals World Series Champions' shirts."
There are an extremely limited number of shirts and hats pre-printed to give to the winning team on the court and in the locker room following the game, but the practice of trying to get out ahead of the event took a serious hit when the Boston Red Sox came back to beat the New York Yankees in the American League Championship Series in 2004.
"It used to be that in a professional series if a team went up 3-0 in a series you would start printing the championship materials because no team in 100 years had ever come back from that kind of a deficit," he said.
"But then the Yankees blew it. Everyone had already printed thousands of dollars of worth of Yankees ALCS inventory and they had to eat it all."
After that disaster, hardly anyone produces anything until the game is in the books, Gregg said.
The shirts are yet to be printed, but if the Wolverines win, the warehouses are primed and ready to become a blur of activity Tuesday morning as shirts are brought in from vendors and separated for sale at brick-and-mortar stores or shipped off to U-M fans and alumni across the country and around the world.
Ben Freed covers business for AnnArbor.com. You can sign up here to receive Business Review updates every week. Reach out to Ben at 734-623-2528 or email him at benfreed@annarbor.com. Follow him on twitter @BFreedinA2