Posted on
Mon, Apr 16, 2012 : 5:57 a.m.
Ann Arbor tech startup Real Time Farms taking root connecting users with fresh food sources
By Janet Miller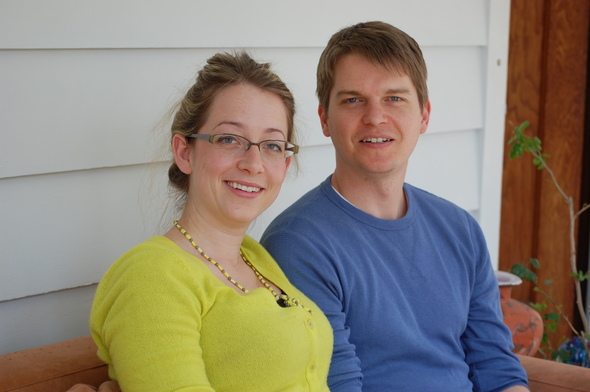 Janet Miller | For AnnArbor.com
Ann Arbor tech startup Real Time Farms is growing faster than asparagus on a warm spring day.
Since it launched two years ago this month, the Web-based guide that links consumers to fresh food sources has grown to include farms, farmer markets, food artisans and now restaurants, where menu items are traced back to their source. RealTimeFarms.com maps farm and food sites coast to coast, from Lavender Wind Farm on Whidbey Island in Washington state to Little River Market Garden in Miami.
The company is poised to keep on growing, said husband and wife co-founders Cara and Karl Rosaen. Site traffic has grown to 30,000 unique monthly visitors, and they are attracting national media attention, including from the New York Times and Huffington Post.
This year they will power the America's Favorite Farmers Market contest, a move expected to boost website traffic. And they plan to increase their sales staff from six to 10. Cara presented at TEDxManhattan in January, one of the global set of conferences with the goal of spreading innovative ideas.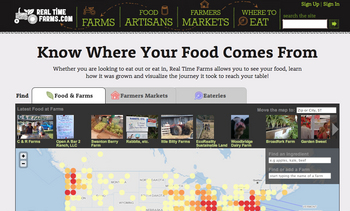 Real Time Farms partnered with USDA to exchange data on farmers market sites, a move that nearly doubled the number of markets listed on Real Time Farms to nearly 7,200. Close to 4,900 farms are mapped, along with 2,600 food artisans.
And while they have been operating on $100,000 in angel investments along with personal savings, Real Times Farms is soliciting another $500,000 to take the company to the next step, the Rosaens said.
The sole revenue generator for Real Times Farms comes from its eateries section, where restaurants can post their menus and link items to their source, from farms to creameries to wineries. Restaurants pay $40 a month to list their menu. While the rest of the Real Time Farms site is crowdsourced, the restaurants own their profiles.
The company has contracted with about 100 restaurants nationally, and needs to grow that number to about 500 in order to turn a profit, Karl said.
Real Time Farms has landed restaurants with national reputations, from Jar in Los Angeles to Naha in Chicago to Zingerman's Roadhouse in Ann Arbor, becoming the hub of their menu management. Because it's a cross-platform menu management system powered by Real Time Farms, restaurant owners can manage their online menus in-house through Real Time Farms, which saves marketing dollars, Cara said. They plan to add the capability for restaurant owners to print menus off the site.
Real Times Farms came after Karl read "The Omnivore's Dilemma" by Michael Pollan, which follows the American food chain, from industrial to organic. Karl was working for Google in Mountain View, Calif., but wanted to return to Ann Arbor (Cara and Karl are Greenhills School and the University of Michigan graduates) to start a business. Real Time Farms links the pre-tech world of small farming with the high-tech world of the Internet.
In the beginning, Cara and Karl did most of the legwork, visiting five to eight farmers markets every weekend, taking photos and adding them to the site. But as Real Time Farms took root, others joined in, and it become a crowdsourced Web guide, where anyone is free to list (free of charge) a farm, market or food purveyor in addition to telling their story and adding photos and videos. Help came from many corners, including nationally touring farmers market musicians Coco & Lafe, who added hundreds of markets as they traveled the country.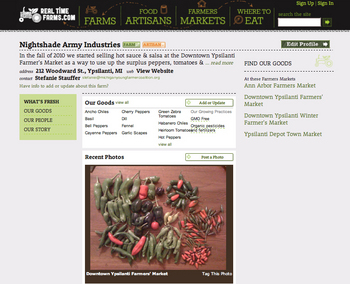 Real Time Farms also has its Food Warrior program, where 20 interns from around the country are enlisted in the 12-week program to visit farms, markets and food artisans, take videos and photos and grow the guide. While most Food Warriors are in their early 20s, there is a range, including a professor in Austin, Texas, and a former factory worker who wants to help heal the planet.
The company's initial business plan focused on food distribution, linking restaurants to local food sources, Karl said. But even before they launched, they realized this wouldn't work. "That's a really hard problem that's not going to be solved just by Web technology," he said.
Instead, Real Time Farms became a guide to help users find fresh food. "There's a saying that if you're not completely embarrassed when you launch your first product, you've waited too long," Karl said. "We didn't wait too long."
Real Time Farms is looking at creating a second revenue stream. Much as the website Kayak earns a kickback from each flight booked on the site, Real Time Farms wants to connect with online sales of fresh food, from grass-fed beef to CSA (Community Supported Agriculture) shares to food hubs. Farther down the line, they may eventually add supermarkets such as Whole Foods, Busch's Market or food co-ops, allowing them to link to fresh food sources.
"Every day you get up and you don't know what you're going to be doing," Cara said. "Its' great to be naïve. That's what you do when you have a startup."