Posted on
Sat, Feb 19, 2011 : 5:55 a.m.
Ann Arbor Tortilla Factory's expansion leaves popular chip maker poised for further growth
By Janet Miller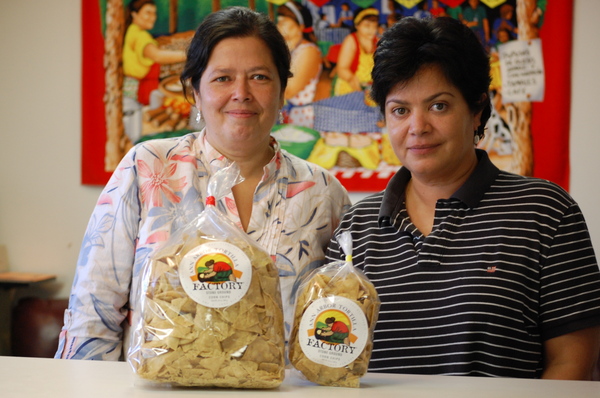 Janet Miller | For AnnArbor.com
The Ann Arbor Tortilla Factory will move early next month to a new facility that will finally allow the company to catch up to demand for their popular thick and salty corn chips sold locally and now gaining a national presence.
Growth for Ann Arbor Tortilla has been limited by space, said Guadalupe Quetglas, who co-founded the east Ann Arbor company in 2007 with her sister Andrea.
Sales for the chips — now available in regular, lime, chili lime and garlic — have doubled each year since 2008, and the company has been unable to keep up with demand for much of 2010. The move will also allow the company to expand into new product areas, Quetglas said.
Ann Arbor Tortilla will move its offices and production facility from the Ellsworth Commerce Park off Ellsworth Road west of US-23 three miles west to Oxford Commerce Park at727 W. Ellsworth Road, adjacent to the Ann Arbor Municipal Airport.
The company signed a five-year lease for the 8,000-square-foot space earlier this month, Quetglas said, and expects to stop production for four days during the move.
Economic development group Ann Arbor SPARK was instrumental in helping find the new space at the Oxford Commerce Park, Quetglas said. The broker on the deal was Neal Warling of Jones Lang Lasalle.
The facility meets all of the company's criteria: More space, close to the freeways and good access to utilities. The company's current space offers only 4,000 square feet, and there was not access to enough natural gas to run all its equipment, Quetglas said.
The current space also can't accommodate a second industrial-sized kettle needed to cook the corn used to make the tortillas, or new packaging equipment the company will start using. The chips are now packaged manually.
Purchase of a new $40,000 kettle will be self-financed, Quetglas said, but the company expects to turn to the Small Business Administration for a $250,000 loan at the end of 2011 to buy more equipment that will allow Ann Arbor Tortilla to expand further.
The move to a new facility will see Ann Arbor Tortilla add three employees for production, as well as the first member of a sales staff. Until now, the company has grown purely from word of mouth, making its way into Michigan Whole Foods Markets, Arbor Farms, all Michigan Plum Markets, Ann Arbor Kroger stores and more.
It has expanded around southeast Michigan, to the west side of the state, and two months ago to New York City.
A University of Michigan student took the chips home to New York and introduced them to the owners of the Bklyn Larder, a food specialty shop in Brooklyn. The store has been ordering four to six cases of the chips every month since.
"The owner said they can't get chips this good in New York," Quetglas said.
The new location will allow Ann Arbor Tortilla to double capacity almost immediately, Quetglas said, and it's large enough to eventually triple capacity. The company hopes to enter more Kroger stores, expand into more of southeast Michigan, and move into the Chicago market via Whole Foods and other specialty and natural foods stores, Quetglas said.
It also plans to launch a gluten-free corn breading, which can be used to coat fish, shrimp, vegetables and more.
"People who can't tolerate gluten haven't been able to eat anything that's breaded and crispy," Quetglas said, referring to the wheat present in most breadings. "We've been experimenting with this and it's quite good."
That product will be introduced in April. The company is also looking to test new tortilla chip flavors, and will continue making salsa seasonally.
Janet Miller is a freelance reporter for AnnArbor.com.