Posted on
Sun, Jun 20, 2010 : 5:58 a.m.
Ann Arbor Township IMRA America facility earns LEED Gold certification
By James Briggs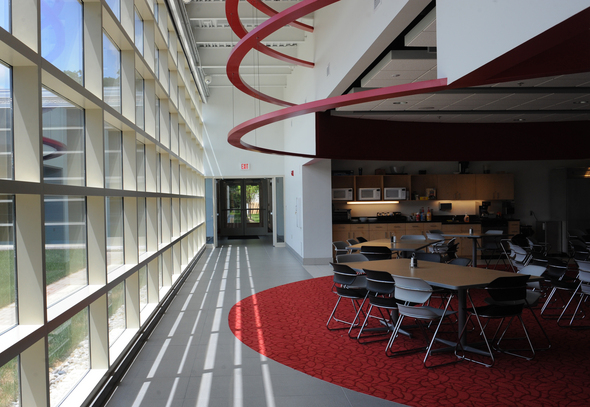 Melanie Maxwell | AnnArbor.com
An Ann Arbor Township research-and-development facility just became the latest Michigan development project to earn Leadership in Energy and Environmental Design (LEED) certification.
IMRA America Inc., owned by Japanese automotive firm Aisin Seiki Co., completed the latest facility of its four-building campus in the Ann Arbor Technology Park about a year ago.

IMRA, which manufactures fiber lasers, intended from the start to take an environmentally friendly approach to the construction. The U.S. Green Building Council recognized IMRA's efforts in late-May, awarding the project LEED Gold certification.
"Ann Arbor is a very green area. Everyone is going in that direction," said Dennis Hawley, manager of facilities, environment and quality assurance for IMRA. "It just seemed like a natural thing to do."
LEED is an internationally recognized certification system that requires third-party certification that a building was constructed through a process that maximized energy savings, water reduction and gas emissions. Gold is the second-highest level of achievement.
Constructing a LEED-certified facility added an additional 3-5 percent of expenses to a project that cost slightly less than $5 million, Hawley said. That fell below original expectations, though, that LEED certification would cost between 7-12 percent more.
Seeking the platinum certification, Hawley added, would have brought unreasonable costs.
"To go (further) would have been real expensive," he said. "We would have had to build this in an urban area and tear down another building, bring in light rail - we're not going to do that.
"We did approach the Ann Arbor Transit Authority about bringing some buses by, and contacted some other companies in the park to see if they would split the cost, but it was real expensive. Then people would have had to walk up a hill (to work), and we knew it wouldn't work."
Still, the project eclipsed original expectations. IMRA, which employs 74 people and has openings for at least seven research scientists, had planned to qualify for silver certification until it consulted with GreenWorks Studio, a firm that specializes in LEED certification.
"We found things they could do very easily and with very little cost impact that could bring the building to a higher level of certification," said Paul H. Goldsmith, an architect for GreenWorks.
For instance, IMRA's research-and-development facility was constructed to utilize natural landscaping. When it rains, water doesn't flow through pipes and go underground. Instead, water is routed throughout the property, weaving across and absorbing into the ground.
"It's benefiting the landscape, or part of the landscape, instead of just dumping water underground," Goldsmith said. "We're managing the water instead of turning it into waste storm water, which we typically have done."
Other techniques were as simple as installing toilets that would cut down on water usage. IMRA also has made available alternative-energy vehicles for employees to use.
"We shot for what we thought was reasonable, and we had to be inventive with some things," Hawley said.
The 22,000-square-foot facility is attached to the first three buildings, totaling about 52,000 square feet. The first one was built in 1989, the second in 1992 and the third in 2001.
The latest facility will be used for application research and the development of ultra-fast fiber lasers.
"We've had a plan all along of getting these done," Hawley said. "We've had a long-range plan."