Posted on
Thu, Oct 29, 2009 : 5:46 a.m.
HandyLab's acquisition shows power of early-stage venture capital investments
By Nathan Bomey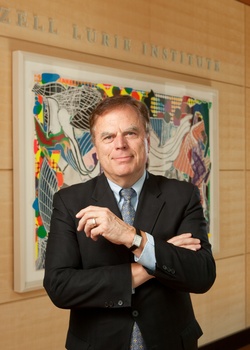 As major venture capital firms in California and Boston shift their attention toward late-stage investments to mitigate risk, opportunity emerges for Michigan investors willing to take the risky plunge into early-stage ventures.
The potential benefits of an early-stage strategy for Ann Arbor were on full display with the student-led Wolverine Venture Fund, which last week celebrated a financial windfall from one of its first investments.
The Wolverine Venture Fund reaped a return of six to seven times its total investment of $350,000 in U-M spinoff HandyLab, an Ann Arbor-based medical devices firm acquired Friday by New Jersey-based Becton, Dickinson and Co. AnnArbor.com confirmed Friday that BD paid close to $300 million.
The deal showcases the potential of small-scale, early-stage investors and underscores the increasing prominence of student-run funds. The Wolverine Venture Fund, along with Ann Arbor-based EDF Ventures, was a founding investor of HandyLab when it started in 1999.
"It wouldn't have existed without EDF, and Wolverine was part of that," said Tom Kinnear, executive director of the Samuel Zell & Robert H. Lurie Institute for Entrepreneurial Studies at the U-M Ross School of Business. "We were there Day One when they were first founded."
Shortly after Wolverine Venture Fund and EDF invested in HandyLab in 1999, Ann Arbor-based Ardesta also invested. In 2004, Ann Arbor-based Arboretum Ventures also funded the company, earning a 10 percent ownership stake, said Jan Garfinkle, Arboretum's founder.
A willingness to invest early is paying off.
"The Ann Arbor funds especially have historically been willing to make investments earlier in the cycle," Kinnear said. "On the coasts right now, you almost can't get seed money. All the venture capital firms have moved downstream."
The Wolverine Venture Fund and student-led Frankel Commercialization Fund have collectively invested $2.8 million in some 23 companies. The Wolverine fund, whose portfolio of investments includes Ann Arbor-based NanoBio and Plymouth Township-based Lycera, invests in stages of $50,000 to $250,000. Frankel invests up to $100,000 at a time.
The Wolverine Venture Fund was founded with some $2.5 million in 1999. That's more than doubled to about $5.5 million, and all profits are designated for re-investment into new companies.
"It's pretty spectacular," Kinnear said. "There were some worries that the students would make investments and the fund would be totally out of money within 10 years or something. (But) Wolverine students are a pretty experienced group."
Jeff Williams, CEO of HandyLab, said the company's original funding played an instrumental role in helping the firm get on its feet.
"It was critical," he said. "And it was critical that it was local for this company."
HandyLab's infection-detection medical device, although always promising, was not a guaranteed success when the company was first founded in 1999. But local investors were willing to take the risk with a fundamental faith in its potential.
"The underlying technology was brilliant and unique and patentable," Kinnear said.
Contact AnnArbor.com's Nathan Bomey at nathanbomey@annarbor.com or (734) 623-2587. You can also follow him on Twitter.