Posted on
Mon, Jun 21, 2010 : 2:04 p.m.
Ann Arbor's 777 building on Eisenhower sold to national real estate investment trust
By Paula Gardner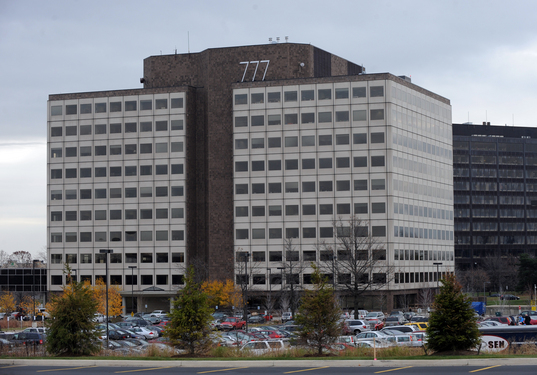 File photo | AnnArbor.com
A landmark Ann Arbor office building is moving back into public ownership following its sale last week to HRPT Properties Trust.
The 10-story tower at State Street and Eisenhower Parkway - long known as the 777 Building, due to its address - was sold along with its neighboring structure, 789 E. Eisenhower Pkwy. Combined, the two buildings are about 400,000 square feet.
City records show an assessed value for the property of $26.6 million, representing an estimated market value of $53.2 million.
A report of the sale surfaced Friday, but the parties involved in the deal still won't comment on specifics.
HRPT [NYSE: HRP] spokeswoman Carlynn Finn said the company will not discuss acquisitions or dispositions until it holds its second-quarter conference call for investors in early August.
In the meantime, the company won't release any other details, including information on who will manage the property.
The buildings have been owned since 2004 by Transwestern Great Lakes L.P., based in Chicago, with a management division in Oakland County.
A Transwestern-related entity bought the building in 2004 as part of a deal to acquire much of the former Great Lakes Real Estate Investment Trust profile. That deal included five office buildings in Metro Detroit, 15 in Chicago, five in Ohio and one in Denver.
Mortgage records from Illinois with copies on file in Washtenaw County show that the Great Lakes deal's original loan for $193 million was modified to a $213 million debt in 2005. Part of that was paid off, leaving a new modified debt as of early this year of $91 million. Several insurance companies joined the Transwestern-related entities in the financing, with Aegon USA Realty Advisors as the master servicer of the loan.
Unclear is how much of that loan covers the purchase price for the 777 building. Great Lakes bought the building for $21.9 million in 1995, then Transwestern added the building at 789 E. Eisenhower Pkwy. to the campus.
Today, the 789 building is fully leased to Proquest. The 777 building is about 90 percent leased, with Thomson Reuters taking much of the space and acquiring the naming rights to the building.
In 2004, when Great Lakes REIT sold itself to Transwestern, the building was at about 60 percent occupancy as former key tenant ABN AMRO - now part of Bank of America - moved to a new building in Avis Farms South.
Transwestern officials said in 2006 that their vision for the building was to reposition it in the market, add value, then sell it. It's been listed for sale twice since 2008.
Meanwhile, HRP's name will change July 1, when it becomes CommonWealth REIT, trading under the symbol CWH.
According to the company's website, HRP owned 518 properties with approximately 66.8 million square feet in more than 60 markets in 34 states and Washington, D.C., representing total investments of $6.6 billion.
HRP stock was trading at $6.83 this afternoon, representing a market capitalization of $1.76 billion.