Ann Arbor's Allure Boutique and 4 Seasons consolidating into one East Liberty storefront
Posted on Sat, Mar 27, 2010 : 5:59 a.m.
Erica Hobbs | AnnArbor.com
Starting next week, two clothing boutiques in downtown Ann Arbor will be consolidating into one store.
4 Seasons Perfume and Lingerie, located at 611 E. Liberty St., is moving two doors down to join with Allure Boutique at 607 E. Liberty St. The consolidated stores will operate under the Allure name
Abraham Hejazi, who owns both shops with his wife Alexandra, said business at 4 Seasons has suffered in the past year because of the bad economy.
"We had the same number of customers, but people were spending less," he said.
Hejazi said he and his wife made the decision to move 4 Seasons' merchandise to Allure instead of renewing their lease when it runs out on Monday.
"It's going to be sad," Hejazi said. "I spent more time here than at my house."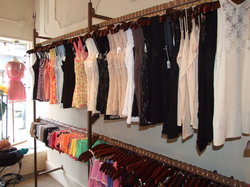 Erica Hobbs | AnnArbor.com
Hejazi said 4 Seasons opened in 2000 at 615 E. Liberty St., the location that presently houses American Apparel. The perfume and lingerie shop then transferred next door to its current location in 2005. Saturday 4 Seasons will close for good.
Patrons will notice some differences in merchandise but not many. A former storage room at Allure will now house all the perfume lines carried at 4 Seasons. Hejazi said he had to downsize his lingerie brands from 12 to three: Betsey Johnson, Cosabella and Hanky Panky merchandise will continue to be offered at Allure.
Hejazi said he's optimistic about the move. He said his biggest concern is losing male customers, who may not realize Allure, a women's clothing store, sells men's cologne in the back.
But he said the stores have been transitioning for the past month, and so far so good.
"Already we've been seeing (success)," he said. "We can see a difference."