Ann Arbor's Bombay Grocers buys former Fantasy Attic store on Packard for expansion
Posted on Thu, Mar 25, 2010 : 5:58 a.m.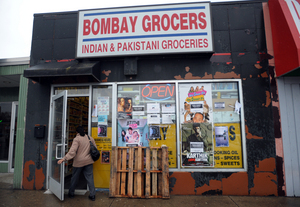 Melanie Maxwell | AnnArbor.com
An Indian grocery is moving forward with plans to expand on the east side of Ann Arbor - but instead of building a new store, Bombay Grocers will move a few doors west into an existing storefront.
Owners Mukesh and Bharti Patel bought the 8,000-square-foot building most recently home to Fantasy Attic on Packard, just east of Platt Road, in early March.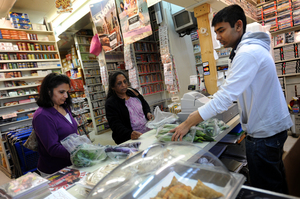 Melanie Maxwell | AnnArbor.com
The building will become the new home for the store that has been based in the same block of the retail corridor for the past 10 years.
The 1,600-square-foot store is jammed to the ceiling with inventory that ranges from boxed mixes for Indian and Pakistani cuisine to bagged beans, spices, snacks, prepared foods in a small cooler and racks of Indian-language DVDs.
The couple has "no more choice" but to find more room for their ever-expanding product lines, Mukesh Patel said.
The Patels recognized the need for more space in 2007 when they bought property to the east, a lot at 3070 Packard that once housed a car wash. They planned to build a 5,000-square-foot store on the site, tripling their space.
However, the economy intervened.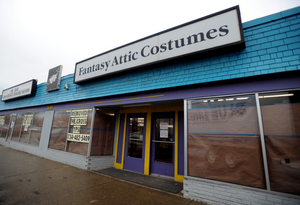 Melanie Maxwell | AnnArbor.com
And in the interim, Fantasy Attic moved from its store next to Little Caesar's Pizza to Depot Town, leaving a retail void in the block.
"The building wasn't for sale," said Ron Dankert of Swisher Commercial, who listed the property for the former owners.
However, most of the people responding to the for-lease advertising raised the question about buying the building instead.
And since the store had been combined from two 4,000-square-foot storefronts to a single store, "we couldn't' find anybody who wanted 8,000 square feet of retail space over the last year or so," Dankert said.
By the time the Patels approached Dankert about brokering a sale of the building, owner James Mabley was open to a deal. The purchase price was $600,000, according to city records.
Now the Patels are renovating the space, hoping to open in the new location by the end of May.
"Business is good," Patel said, adding that he expects his customers to easily adapt to the new location.
However, the economy remains a factor for the small, independent store: "The profit margin is very low," Patel said.
The new store will end up larger than the Patels originally planned, but they hope that adding more inventory will help them grow sales.
Dankert described the retail blocks of Packard east of Platt as a unique corridor of the city since it's filled with independent stores that cater to a varied international market.
"It seems to be a strong area," Dankert said. "People come from some distance to shop there."