Posted on
Fri, Aug 24, 2012 : 5:15 a.m.
Cafe Habana, Lena to open at new South Main Street location next week
By Lizzy Alfs
The historic Ann Arbor building once occupied by Cunningham's Drug Store and most recently the Parthenon Restaurant is set to reopen Aug. 30 as two restaurants: Lena and Cafe Habana.
Jon Carlson and Greg Lobdell — who combined own a dozen Michigan restaurants — spent four months transforming the 8,000-square-foot, bi-level space at the corner of South Main and East Liberty streets.
The result: A "modern and rustic" feel upstairs and a "unique, cavern-like" feel downstairs, Carlson described.
The landmark building was painted green earlier this summer — a shade Carlson said is similar to Cunningham's former exterior. The new Lena sign is meant to reflect Cunningham's block lettering.
But inside, Carlson said, everything is new.
"It's a historic building, so we remodeled the outside as it was in the 1940s, and inside, we took everything down to the bare bones and inserted modern elements," he said.
Gary Wilson of Traverse City-based Wilson Construction Co. was the contractor for the project. Ann Arbor-based Curtis Commercial owns the building.
The first-floor Lena — which partially is named after a famous photograph — will serve "modern food of the Americas," influenced by Latin culture and cuisine, Carlson said. It will be open for lunch and dinner.
"We actually worked hard on making (Lena) a lunch spot," Carlson said. "We have a completely different menu for lunch that focuses on salads and sandwiches…we feel lunch is important in downtown Ann Arbor."
Cafe Habana, located in the basement, will have its own entrance, menu and feel. It will serve some classic Cuban dishes and Latin street food. It will open daily at 5 p.m. and host live musicians, DJs and salsa nights.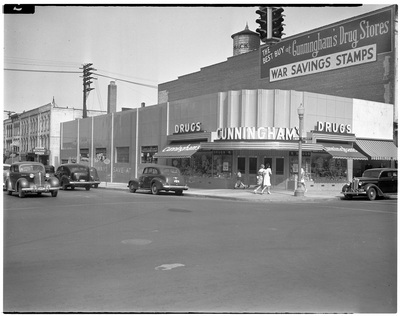 Photo from Ann Arbor District Library
"The thing we're proudest of, I think, will be the sound and visual throughout the entire space. We worked with (Ann Arbor-based) Leon Speakers, and I think we'll have the best sound system that we've attempted."
Both Lena and Cafe Habana will source locally, prepare specialty cocktails, serve Brazilian Chopp beer, and have "unique" wine lists, Carlson said. Between the two restaurants, there are 270 seats and 95 employees.
The owners also have plans to add patio seating on East Liberty Street, creating room for 80 to 100 outdoor seats. They're also looking to add a rooftop deck in 2013.
Carlson said the new Cafe Habana is different and "much better" than the original restaurant, which was located on East Washington Street before closing in January to make room for Blue Tractor's expansion.
"We learned a lot of over there so wanted to do an even better job," he said. "It's difficult when you're trying to do diametrically opposed concepts — Latin and BBQ — in the same space. Here, (the restaurants) are both in the Latin food spectrum."
Chef Gabriel Vera, formerly with Saltwater in Detroit, is leading culinary at both restaurants.
"We feel like we have just the most amazing, young, talented chef," Carlson said. "We did a national search and we thought it was important for someone to understand the culture as well as the food."
He called the restaurants casual upscale — competitive pricewise with other restaurants in the South Main Street area.
Carlson and Lobdell, along with other investors, also own Ann Arbor's Grizzly Peak and Jolly Pumpkin.
The duo partnered with a handful of people on the Lena/Cafe Habana venture. Among them: Dugan and Katie Fife, Andy and Anna Mignery, Matt and Marjo Grabowski, and Andrew Kilbride and Liz Marek.
Lizzy Alfs is a business reporter for AnnArbor.com. Reach her at 734-623-2584 or email her at lizzyalfs@annarbor.com. Follow her on Twitter at http://twitter.com/lizzyalfs.