Posted on
Wed, Jan 20, 2010 : 6 a.m.
Ann Arbor's Cake Nouveau is moving from downtown to Morgan & York building
By Erica Hobbs
Photo courtesy of Cake Nouveau
Ann Arbor's Cake Nouveau is moving from the Kerrytown area of downtown to 1942 Packard St., a property it is leasing from soon-to-be neighbor Morgan & York.
"We're just expanding, so our cakes can expand, too," owner Courtney Clark said. "My goal is just to take on more."
The new facility is more than twice as big as its current location at 206 N. Fourth Ave., which Clark said isn't big enough to accommodate demand for cake orders.
"We're saying no to 8 out of 10 cakes right now," she said.
Clark's cake-designing skills have been featured on national television, including several episodes of the Food Network Challenge and TLC's Ultimate Cake-Off.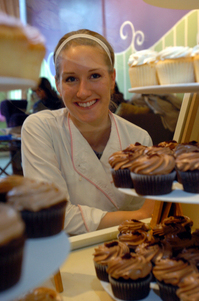 Office Manager Sarah Mayfield said the shop has hired two new employees in preparation for the bigger facility, which she says will feature more seating and possibly more cupcake varieties and other pastries for retail customers.
"It's just going to be more of a bakery," she said.
Though Clark said she is concerned the move out of the downtown could hurt business, she said she's hoping her loyal customers will follow her. She said the new shop is located in a more residential area and is in a space that now has free parking.
"I think that our customers are most excited about that," she said. "They won't have to park blocks away."
Specialty food shop Morgan & York said having two independent, destination businesses next to each other should also help boost business. The shop is known for its extensive wine selection but also specializes in high-quality cheeses, deli meats, coffee and pastries. Manager Sean Hartwig said he is excited about the store's new neighbor.
"Imagine being able to sit down with a cupcake with your daughter or son or niece or nephew and a nice cup of coffee," he said. "It's exciting to have another independent, small business next to us."
Clark's husband Kendon Smith, who is assisting in the move, said there is still a lot of work to be done before the Packard location is ready.
"At this point, we've gutted the space and started to frame out the new walls," he said. "We still need to install plumbing, electrical and heating/AC."
Smith said Cake Nouveau is expected to open in its new location within the next two to five months. 
For more information on Cake Nouveau, visit AnnArbor.com's restaurant guide.