Posted on
Mon, Oct 31, 2011 : 11:13 a.m.
Ann Arbor's Comet Coffee recognized as one of 'America's Coolest Coffeehouses'
By Lizzy Alfs
There is no shortage of coffee shops in downtown Ann Arbor, but only one local spot is being recognized as one of America's coolest coffeehouses in Travel + Leisure magazine.
Comet Coffee, the small coffee shop tucked away inside the popular Nickels Arcade shopping corridor, made the travel magazine's list of 26 notable coffeehouses in the U.S.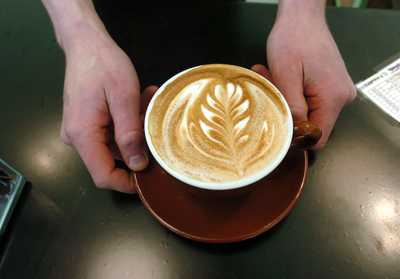 File photo | AnnArbor.com
"Coffeehouses that meet the criteria for cool each stand out from the crowd and attract us for diverse reasons," according to the article.
The article cites Comet's "short and sweet" menu, and its location in the "beautiful glass-covered" Nickels Arcade. The shop is also recognized for its Japanese pour-over drip technique.
Last month, the New York Times also recognized Comet Coffee in the article, "36 Hours in Ann Arbor, Mich."
"The intimate Comet Coffee brews coffee from Ethiopia to El Salvador one cup at a time," the Times reported.
Comet Coffee, owned by Jim Saborio, opened in Nickels Arcade in 2009.
Lizzy Alfs is a business reporter for AnnArbor.com. Reach her at 734-623-2584 or email her at lizzyalfs@annarbor.com. Follow her on Twitter at http://twitter.com/lizzyalfs.