Posted on
Mon, Jun 3, 2013 : 5:59 a.m.
Ann Arbor's Espresso Royale eyes careful expansion as coffee competition grows
By Lizzy Alfs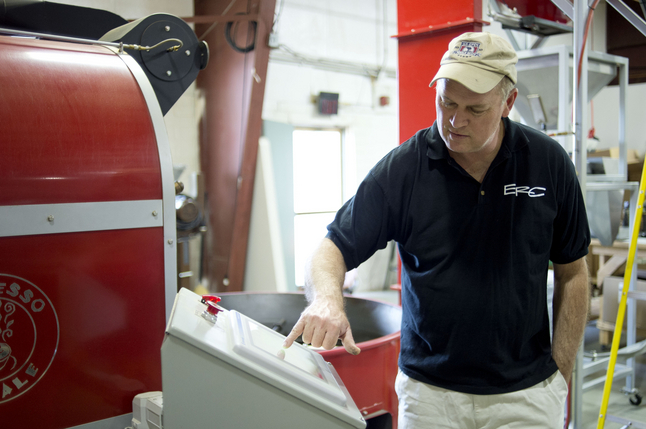 Melanie Maxwell | AnnArbor.com
Editor's note: This is part of a series of articles about local companies surviving the economic downturn.
Related coverage: Emerging from the Great Recession: How Ann Arbor area companies bounced back
Espresso Royale president and founder Marcus Goller is confident when he says the Ann Arbor area-based coffee shop is the tortoise, not the hare, in the race toward expansion.
Founded in 1987, the 500-employee coffee shop chain now operates 21 stores in five states, a roasting plant just north of Ann Arbor, and an online store. The plan is to grow its store count by two or three locations per year, Goller said.
"I feel more confident now than I ever have about the company," he said. "It's been such a tough, challenging, scary couple years and I see opportunities now. We've been around since 1987 and we've weathered anything anyone can throw at us."
Despite the economic downturn, market revenue in the $18 billion U.S. coffee industry increased at an average annual rate of 5.6 percent from 2008 to 2013, according to an IBISWorld report. But competition in the market is fierce, with more than 25,000 coffee shops in the country and 70 percent of coffee sales coming from the top 50 coffee shop operators.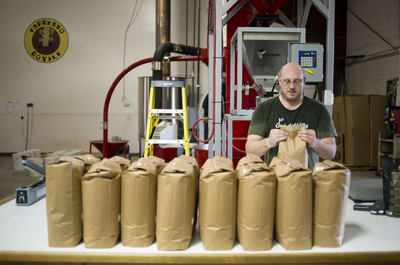 Melanie Maxwell | AnnArbor.com
Goller said Espresso Royale managed to grow its sales year-over-year since 2008, but that didn't come without sacrifices. The company relocated its corporate offices from South Main Street in downtown Ann Arbor to a warehouse in Whitmore Lake; it halted expansion plans and closed a store on Carpenter Road in 2009; and Goller took a four-year pay cut and slashed corporate positions, like chief financial officer and marketing director.
"We really liked our office on Main Street, but it was more money than we needed to spend," he said. "You do what you have to do to make the business work."
The key, he said, is not passing the effects of the economy on to the customer. He called pricing coffee "an art" and said increases can easily backfire on small coffee roasters and retailers. Espresso Royale raised prices by an average of 3.2 percent in 2010, and again in late 2011 by 1.25 percent. To minimize the effect of price increases on customers, Goller said offering coupons, loyalty club programs and daily deals is crucial.
"Pricing is an art and I think we do a good job. To raise prices much more would be dangerous," he said. "We can't act like a gas station and put up a new price every day. We can either get more customers to increase volume; raise prices; or cut quality or portions. Those are the things you can play with."
The average American spends more than $20 a week, or $1,040 per year, on coffee, according to Accounting Principals' 2012 Workonomix survey. Although Goller called coffee an "affordable luxury," he said some people cut their coffee purchases when money is tight. He attributed a marked decline in Espresso Royale's sales during the first few months of 2013 to the higher payroll taxes.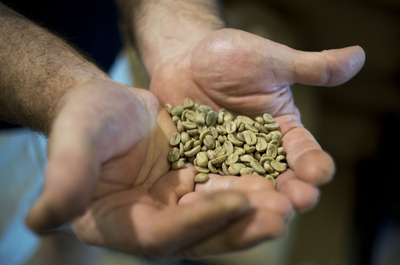 Melanie Maxwell | AnnArbor.com
At Espresso Royale's 12,000-square-foot Whitmore Lake roasting plant, 160-pound bags of coffee beans from places such as Haiti, Burundi, Mexico, Colombia and Guatemala line the walls. A worker oversees the coffee roasting operation — where 100,000 pounds of coffee is roasted per year — and someone prepares Espresso Royale's baked goods, which are delivered by truck to nearby stores each day.
Goller takes pride in his company's coffee and baked goods and said he's not willing to cut corners to boost profits. Espresso Royale works with Chicago-based Crop to Cup to get family farmed coffee, and Goller pointed to Espresso's made-in-house chai tea as an example of a quality product.
Although the first Espresso Royale opened in Oklahoma in 1987, Goller said the Ann Arbor State Street store, which opened in 1988, was shockingly successful. It made sense to headquarter the company near that store as Espresso Royale expanded to various college campuses.
"Ann Arbor is wonderful, because (people) get it. If they don't take a stand and defend local businesses, they'll disappear," he said. "We always look for charming, busy, touristy, college places where people gravitate to. We can't expect people are just going to find us."
Over the years, Goller said, Ann Arbor has become saturated with coffee shops, but he sees opportunity near Eastern Michigan University's campus. Espresso doesn't operate a store in Ypsilanti, but Ann Arbor-based Sweetwaters Coffee & Tea recently opened a store on Cross Street.
Goller also wants to grow the company's retail presence in grocery stores.
"We're just going to keep slowly growing," he said. "We're definitely the turtle, but at this point, we can't afford to keep hunkering down. If you don't grow, you die."
Watch the video below to see how Espresso Royale's coffee is roasted.
Lizzy Alfs is a business reporter for AnnArbor.com. Reach her at 734-623-2584 or email her at lizzyalfs@annarbor.com. Follow her on Twitter at http://twitter.com/lizzyalfs.