Posted on
Thu, Dec 10, 2009 : 6 a.m.
Ann Arbor's ex-Ritz Camera building on South State sold in $1.305M deal
By Paula Gardner
A Metro Detroit ophthalmologist is the new owner of the former Ritz Camera building on South State Street in Ann Arbor.
It's a rare sale transaction involving commercial property within steps of the University of Michigan central campus, where rental rates remain among the highest in the city.
Dr. Reza Rahmani, owner of Metro Detroit's Rahmani Eye Institute PC, bought the building at 318 S. State St. at auction in late November after bidding $1,305,000.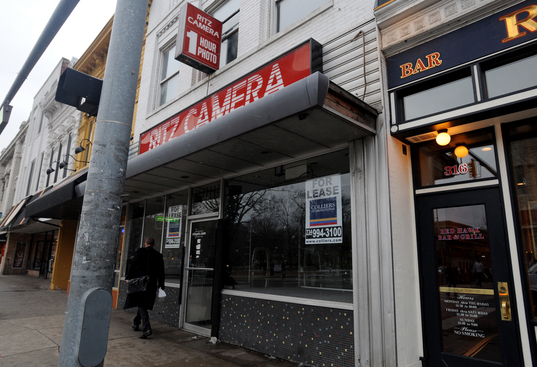 The two-story, 5,500-square-foot building was part of the national Ritz Camera bankruptcy, which closed over 300 stores in the spring.
The Ann Arbor site was among six retail locations listed for sale by Chicago-based Hilco Real Estate. The other listings include three in Utah, and one each in Idaho and Pennsylvania.
The listing brokers did not return calls seeking comment.
The building's assessed value is $306,500, according to city records, with $273,200 in estimated land value.
But it's the building's location on the prime South State retail corridor next to the University of Michigan campus that made it worth the price to Rahmani.
"It's the heart of campus," Rahmani said. "In my opinion, it's probably the best real estate in Michigan."
The storefronts in the blocks of South State from East William to East Liberty have always been among the most expensive rental spaces in the city, topping $40 per square foot.
Now, with U-M building the new North Quad between Washington and Huron, interest in the blocks remains high despite the recession, thanks to projections that the mixed-use dorm will generate additional pedestrian traffic.
Rahmani expects the next tenant to be a restaurant, since "food can generate enough income to afford that space."
He's listed the building with Jim Chaconas of Colliers International in Ann Arbor, who said he expects to lease both ground-floor and upper level to the same tenant for an average $35 per square foot.
"We're not going to separate it," Chaconas said. "It would give up too much (ground-floor) frontage."
Chaconas also has a retail listing across State Street: about 1,800 square feet of the former Shaman Drum book store, at $40 per square foot. He leased the rest of that space this fall to the new Pitaya boutique.
Potential tenants could have it adapted for two-story use by customers, like at the nearby Noodle & Co., or use the upper level for offices and storage.
The building will require additional investment in some of the systems and the façade, Chaconas said.
"But it still has the old tin ceiling," he added.
Rahmani owns some out-of-state real estate and was looking for property in Ann Arbor to diversify his investments. He said the opportunity to own on State Street was too good to pass up.
Many nearby buildings are owned by families that have held them for generations, or they've been sold via transactions that involve long-term relationships instead of being listed.
"These properties don't come on the market very often," Rahmani said.
Rahmani said the tight credit markets - making it tough for a buyer who would need to finance - and the auction scenario played to his advantage in the purchase.
"Somebody who has cash right now can make good investments in Michigan," Rahmani said. "There's a lot of opportunity. I don't think we got this building at a bargain. But I'm 100 percent sure that if this was two years ago, it would have gone for a lot more."
Paula Gardner is business news director of AnnArbor.com, where she covers real estate and development. Contact her at 734-623-2586.