Posted on
Mon, Dec 26, 2011 : 5:57 a.m.
The hackers, tinkers and teachers of Ann Arbor 'makerspace' All Hands Active
By Ryan Levin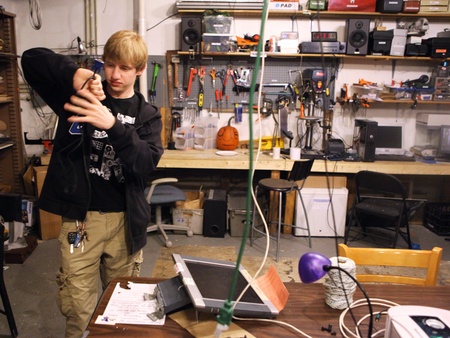 Jeff Sainlar | AnnArbor.com
Ann Arbor's
All Hands Active
membership pool was a little smaller than usual the day of a recent visit to their basement "makerspace" under East Liberty Street in downtown Ann Arbor. Four of their members had just been scouted by technology companies in San Francisco and hired away to California for full-time positions.
That's one of the problems—in a good way—that AHA has found while trying to expand its member base. Technology companies like to go to the Ann Arbor group to find tech-savvy and creative talent, and AHA likes to be as supportive as it can of southeast Michigan's own physical tech startups.
The other problem AHA has been having is that a good part of Ann Arbor might not even know the place exists. Or what a makerspace is.
As co-founder and current board member Xander Honkala tells it, AHA started as a loose group of hobbyists and tech enthusiasts who would crowd into barrooms and around coffee shop tables a couple times a week to show off the things that they had made. Or to brainstorm the problems they had come across.
When Digital Ops owner Josh Williams caught wind of what they were doing, he offered them a small corner section of his basement business to hold meetings and keep a few supplies in. In a matter of weeks, the makerspace expanded outward to now share equitably in the basement facility.
Their half of the room is cluttered with work tables, laptops, parts of projects in progress and bits racks with labels like Breadboards, Video Cards, Heatsink Goop, Optics, "Hard to Find" and "Sort Me." On Thursdays, they host Open Build nights—chaotic whirlwinds of brainstorms, tinkering and activity.
One recent Thursday, a member was building a centrifuge in one of AHA's two 3D printers. Someone had off-handedly mentioned on a previous night that one would be "cool to have." The part would go in a device used to separate out solids from substances in test tubes. So a maker who knew how to use the printers came in to see one made.
Projects in AHA tend to blossom organically like that. Someone will propose an undertaking, mention an idea or begin to tackle a complicated problem—and members with the right tools, resources and expertise will come forward to lend a hand.
The tool rack stretching across the wall behind the 3D printers came about that way, said Honkala. Members who were tired of rooting through Rubbermaids to find the right tools took it upon themselves to create the organizing rack.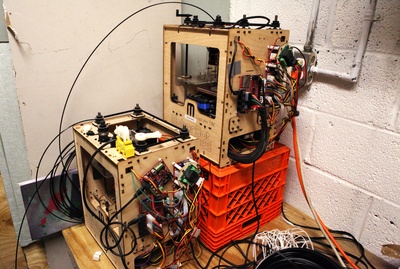 Jeff Sainlar | AnnArbor.com
All Hands Active's ceiling is covered in an enormous plastic mobile—something like a chemical compound or a spider's web made out of zip ties with members glasses and bits of broken CD hanging from its lengths.
Honkala spontaneously created the project by leaving a box of 5,000 zip ties in the center table on an Open Build day to see what members might do with them.
Most of the equipment in AHA is owned communally, including the 3D printers, a full-spectrum laser cutter, silkscreen printer and metal milling machine.
Members bring their tools in to share with the makerspace, and AHA takes on full responsibility for maintaining them and promoting proper use. Equipment can be personally owned or is lent by a local business for use by the makers.
Though the term lacks a concrete definiton, a "maker"—part of a larger movement— is someone goes outside of the traditional structure of education to tackle a technical problem with their own hands and ingenuity. Locally, other examples can be found at Maker Works on the south side of town and the regular public Mini Maker Faires.
The terms "maker" and "hacker" are used similarly, "hacker" often designating someone who works more with programming and code while "makers" work more with circuits, tools and physical things.
Honkala mentioned many in the local makerspace community seem to be proficient with programming.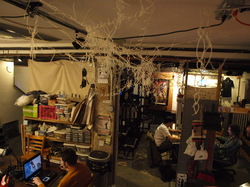 All Hands Active membership base is around 40 percent technology professionals, 40 percent local students and the remainder hobbyists and enthusiasts, Honkala said. Some come from unrelated careers and majors like the tattoo artist and an anthropology student, but many arrive from tech-driven fields and are entrepreneurs.
Leo Robertson, 17, is an AHA member, local high school student and owner of his own steampunk design company, Robertson Industries, that specializes in jewelry, functional art and prop weaponry.
Another one of the co-founders of AHA owns a start-up company called GEMSI, an organization that travels to developing countries to set up makerspaces and promote the tinkering, hacking, making movement around the world.
The AHA board consists of active AHA makers, and the positions shift constantly. They take titles like the AHA Shogun and the Transistor Bishop. Honkala is the Laser, with a focus on fund-raising and community organizing. The Golden Macaroni Master focuses on one of AHA's other organizational pillars: educational outreach.
Through programs like "Bright Futures" and "Wreck Lab," All Hands Active sends its members out to underprivileged schools in southeast Michigan. They teach classes and hosts DIY Clubs to raise technical literacy and encourage young people experiment, take things apart and create with their hands.
Brights Futures is funded partly by a grant from Eastern Michigan University, said Honkala, and provides paying teaching jobs for AHA members. In Wreck Labs, they encourage students to dissect broken modern electronics and see how these things work.
AHA members set up classes in their Ann Arbor makerspace for its membership and the general public (AHA prides itself on being available to the public for at least eight hours every day, at any time their partner Digital Ops is open). Classes come from discussions started on Open Build nights, often when one member has a technical question. Whichever member has the answer will often decide to head a class a few weeks later on just that.
Other AHA courses are mandatory introductions into the operation of some of the makerspace's more elaborate and expensive machines. On their website currently, they have classes schedule for Python Coding, Soldering, 3D Printing, Computer Case Modding and operating machines with CNC.
For the future, AHA hopes to keep expanding. They're talking to the city for the permits to add a lathe, molecular biology lab, metallurgy foundry and recording studio. In the basement shared with Digital Ops, there's an empty dance studio across the hallway that Honkala hopes one day All Hands Active might be able to move into.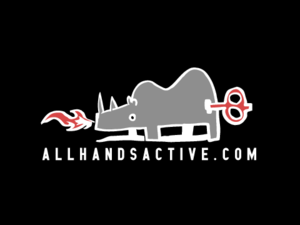 For now they want to maintain their education outreach programs and get to work with other organizations within Washtenaw County. And all done under the banner of the makerspace and AHA's wind-up, fire-breathing rhino.
Honkala's not sure where it came from. When he and his friends first started AHA, there was a dry-erase board in the little corner space Digital Ops gave them. During meetings, they took to doodling and eventually a little rhino showed up.
It stayed, and later someone added the clockwork and the flames. When they next convened, it seemed like just the right choice for the logo. They're still not sure what exactly it's supposed to symbolize, but they agree it's the right decision.
For more information, see the AHA website. The makerspace is located at 525 E. Liberty St.
Ryan Levin is a University of Michigan Screen Arts and Cultures graduate and a film and comedy blogger. He currently moonlights as a waiter and bartender at the Ann Arbor Comedy Showcase.