Posted on
Fri, May 13, 2011 : 5:55 a.m.
New downtown Ann Arbor restaurant Mani Osteria & Bar plans to open next week at Liberty and Division
By Angela Smith
Ann Arbor native Adam Baru is bringing the lessons he learned from two of the Food Network's top chefs to his downtown Ann Arbor restaurant, Mani Osteria & Bar, which is expected to open May 17.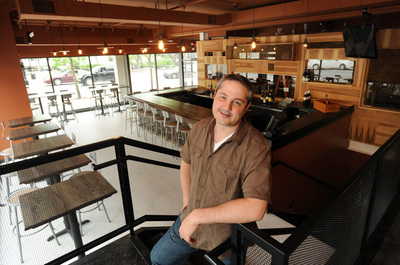 Melanie Maxwell | AnnArbor.com
"I have had the distinct honor of working for two Iron Chefs: Chef
Morimoto
and Chef
Jose Garces
, who won the
'Next Iron Chef'
a year ago," Baru says.
After completing the hospitality program at Cornell University, Baru spent 8 years working in the restaurant business under restaurateur Danny Meyer.
For the last 2 years, he ran Chef Garces' restaurant in Philadelphia before deciding to do his "own thing."
That would be Mani Osteria & Bar, at the corner of East Liberty and South Division streets.
The location is known to longtime Ann Arbor residents as the former Handicraft Furniture. More recently, the building has been used for upper-level offices and lower-level retail space, such as the Ragstock clothing store that opened in 2010.
While completing extensive renovations this winter at the site, Baru has developed a menu of small plates and tapas in an Italian style.
"Mani Osteria Bar was originally supposed to be Mani Pizzeria. And the menu has really grown up — we didn't want to just offer pizza," he says.
The name "osteria" comes from the term for a local tavern, Baru explains.
"It's a place for locals to come and get an inexpensive glass of wine, a bite to eat, see people they recognize, and sort of a hub of the local community. It's a new word to many Ann Arborites, and was a new word to me as well until I opened up one in Philadelphia. It's of Italian origin, and I do hope that this will become sort of a meeting place," he says.
The word "mani" is Italian for hands.
"The name sort of warped out of this whole idea that the chefs are craftsmen that work with their hands," he says.
Baru also likes that the name hints at the fact that the food can be enjoyed with the hands, and also at the concept of being a hands-on member of the community.
"We're not just another business on the corner … we want to become something that for example Zingerman's has done very well — they truly have hands in the community," he says.
Baru is not yet sure how Mani Osteria & Bar will integrate into the community, but he has ideas.
"My father has worked Summer Festival for years. I would love to somehow be able to be involved in that. My mother has worked with the University Art Museum since I was a kid — she was a docent there. We'd love to be able to take these passions that people in my family have and develop that," he says.
Indeed, Baru says, the development of the restaurant has been a family effort.
"A lot of time and energy goes into building these things, and it really becomes life unto itself. It is pretty consuming. My wife has been a great support; my folks have; and having the support group like that when you are putting together a restaurant is critical," he says.
A big motivation for Baru's bringing this restaurant to Ann Arbor was a desire to be closer to his parents, who still live here. He also thought about family when developing the concept and the menu. He plans to include items from simple pizzas to more exotic offerings.
"Mani is an affordable way to try a lot of different things. Try the pizza called 'breakfast.' … Have the octopus, have the arancini (little Italian rice balls), have the beef cheek and try other really cool new ingredients," he says.
But know that there will be offerings for the less adventurous palate as well. Baru says small plates will run from $5 to $15, and pizzas will cost $11 to $15.
Baru says the pizzas will be the main draw to Osetria, and that his recipes have been born from his experiences in Philadelphia and New York. But he says diners shouldn't expect a New York-style, or even a Philly-style pizza.
"We'll call it the new Ann Arbor-style pizza," he jokes.
Baru is proud to show off the two wood-fired ovens where pizzas and other dishes will be prepared in open view of diners.
The recipe is based on a Neopolitan-style flour, which yields a very fine and somewhat fragile crust.
"They're usually 12 inches round, very soft, very light pizza. We have adapted that recipe to our own so that it is a little more user-friendly, I would say. It can handle more ingredients, and is not quite as delicate. The flavors are going to be really unique," he says.
And pizza making is a science.
"All of our chefs have spent a lot of time coming up with (topping) combinations that are different and unique and very fun. The hardest part is getting the dough right. There are so many factors that end up becoming integral — you worry about hydration levels, types of flour, gluten levels, what kind of yeast. Humidity levels in the air even affect the dough," he says.
One chef, Arthur Cavaliere, also has East Coast experience with award-winning chefs. Cavaliere has been integral in designing the menu and training the staff, Baru says.
"Our other chef, Brendan McCall has worked in kitchens in Ann Arbor. He will most likely take over the reins of this restaurant down the road. He's got unbelievable skills and knows the Ann Arbor culinary scene extremely well," Baru says.
The restaurant will have seating for roughly 110 guests, including the bar, a small semi-private dining area, and a "pizza counter" where diners can watch their food being prepared.
"It's one of the parts of the design that I was adamant about. I wanted people to be able to see the chefs working, and see the food being prepared. It's not a traditional kitchen, they are actually using fire," he says.
Mani Osteria is an ideal "midtown" Ann Arbor location, said Baru. Nearby Sterling 4 Eleven Lofts and McKinley Towne Centre act as anchors.
"Philadelphia is a great food town … and I am really hoping to bring it to Ann Arbor. I think that Ann Arbor absolutely has the potential. There are some great restaurants here, and I look forward to really joining the club."
Angela Smith is a freelance contributor to AnnArbor.com. You can reach her at angieannarbor@gmail.com.