Posted on
Fri, Oct 15, 2010 : 6:02 a.m.
Ann Arbor's Motawi Tileworks enters new market with production of Arts & Crafts Teco pottery vases
By Janet Miller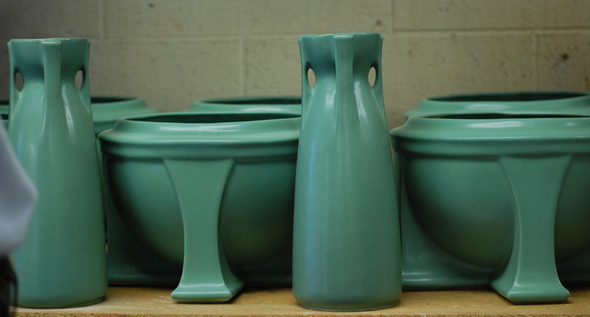 Janet Miller | For AnnArbor.com
Motawi Tileworks
, makers of fine architectural and gift tiles in the Arts and Crafts style, is entering the third dimension.
The Ann Arbor company's first shipment of vessels - three styles of vases based on historic Teco (American Terra Cotta Tile and Ceramic Company) - was shipped this week.
It's a potential growth area for the 18-year-old company as tile sales have slowed over the past two years, said Nawal Motawi, company owner. It is the first time Motawi, whose tiles are distributed nationwide at nearly 400 outlets, has produced vessels.
The Prairie Arts division of the Prairie Design Group, a Chicago-based firm that, among other things, produces decorative accents in the Prairie style, will market and distribute the vases.
Motawi began research and development after Prairie Design Group made overtures two years ago, Motawi said.
"When 2008 was winding down, sales began to fall off and we knew we were looking at a bad year ahead. When we were approached, we had the time and people to devote to it," she said. "We didn't know if we could do it, but we suspected that we could."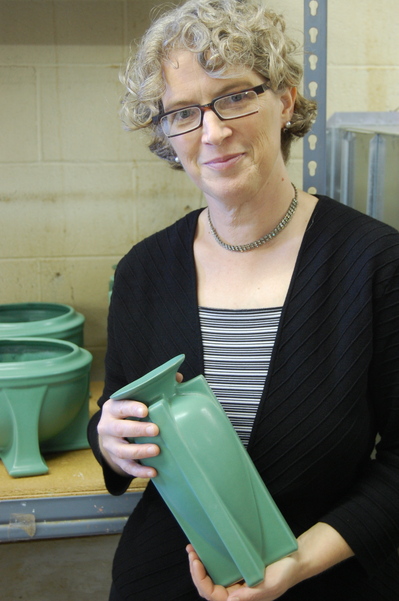 Janet Miller | For AnnArbor.com
Under the agreement, Motawi will produce the vases using the Teco name, logo and designs. Teco, founded by William Day Gates outside of Chicago in 1899, had 500 designs. Teco designs are architectural, with clean and simple lines, rather than elaborate patterns. It's unclear when the company stopped making art pottery.
The vases are slip cast, where liquid clay is poured into a plaster mold. It took Motawi two years to develop the molds, design a clay formula, experiment with colors and hone production to bring the vases to market, Motawi said.
"Slip casting is a whole new way of making things," Motawi said.
Part of the company's 13,000-square-foot facility on Enterprise Drive in Scio Township had to be revamped to accommodate the new line.
They will start the line with only one color - green - but will add more later, Motawi said.
"We had to scale back our ambition, but we wanted to release something for Christmas."
There are three styles: Deco, Trumpet and Oak Park. They are reproductions of original Teco designs.
Motawi said she was willing to branch out into vessels from her traditional tiles because she knew she had a buyer with Prairie Design Group.
"It was low risk," she said. "We knew we had a customer. The key was getting the price right. It took us a year to figure out the cost."
Motawi said she expects the company to produce between 300 and 350 vases in time for the holidays, and that 2½ positions were added. As the process ramps up, Motawi said she expects to eventually be able to produce 300 to 400 vessels a month within the existing facility.
Retail prices currently range from $120 to $145. The vases appear on the catalog cover of the Frank Lloyd Wright Preservation Trust fall gift catalog, ShopWright.
Motawi Tileworks has a nationwide reputation and is the sole licensed manufacturer of Frank Lloyd Wright Collection Art Tile under the auspices of the Frank Lloyd Wright Foundation.
But by the end of 2011, the company expects to also begin production of its own line of vessels, Motawi said. There's a ready-made market and distribution channel for its own line of vessels, she said.
"We sell tile at just under 400 galleries nationwide and I think many of them would want (the vases) if they are made to the same standard as the tiles."
The vessels are being sold on-line at http://www.shopwright.org/vases-teco-2010.html.
For more information on Teco pottery, go to http://en.wikipedia.org/wiki/Teco_pottery.