Posted on
Wed, Dec 16, 2009 : 11:36 a.m.
Ann Arbor's NanoBio strikes multimillion-dollar licensing deal with GlaxoSmithKline
By Nathan Bomey
Ann Arbor-based NanoBio Corp. announced today that it's signed an agreement with United Kingdom-based pharmaceutical giant GlaxoSmithKline to license its cold sore treatment still in clinical development.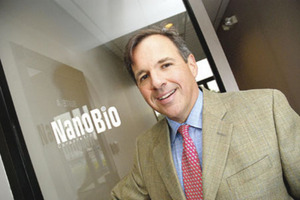 File photo by Robert Ramey | AnnArbor.com's Business Review
The deal provides $14.5 million upfront to NanoBio in addition to royalties and payments of up to $40 million if the treatment hits specific milestones.

The deal adds to NanoBio's increasing stockpile of cash - which is critical to developing a biotechnology company.
"It's a big milestone," NanoBio Chief Financial Officer David Peralta said in an interview. "We've been successful in attracting investors, which is certainly a very important validation in terms of the technology and intellectual property. This is the second step, where we're able to attract a large, quite frankly top 3, pharma company to make a significant investment in our product."

The agreement is a reflection of GlaxoSmithKline's confidence that NanoBio's cold sore treatment will reach the market. The therapy is on the cusp of beginning Phase 3 development -- the final stage before it's ready to ask the U.S. Food and Drug Administration to approve the therapy for use on the market.
"On a broader scale, this partnership further validates the promise of our proprietary platform technology and its potential use in a wide range of dermatological and anti-infective applications," NanoBio founder James Baker said in a statement.
Peralta said the deal is tied mostly to clinical development of the drug, although some milestones are related to future sales. He said NanoBio would continue to handle development of the drug for the U.S. market, and GlaxoSmithKline will handle development for the Canadian market.
Peralta said GlaxoSmithKline was one of several pharmaceutical companies that "expressed definitive interest" in acquiring the cold sore therapy.

"It's further validation of the technology, further validation of the technology platform and it's brought awareness of the potential," he said.

The deal comes after NanoBio raised another $22 million in venture capital this year to continue development of its drugs, giving the company a total of some $90 million in VC and grants since it started 9 years ago. The University of Michigan spinoff firm has about 20 employees in Ann Arbor and expects to add to its staff.
NanoBio's nanotechnology uses extremely small particles to deliver therapies to patients. The topical treatment licensed to GlaxoSmithKline adds to the UK firm's over-the-counter cold sore medicine Abreva. Some 20 percent of American adults suffer from cold sores.
Peralta said NanoBio expects to launch the Phase 3 study on its cold sore therapy by the second quarter of 2010, and the study should be done in 2011. The firm hopes to reach the market with the drug in 2013.

NanoBio has several other therapies under development that are not affected by the deal. One of its technologies, a nasal vaccine delivery technology, could present an alternative way to manufacture and deliver flu vaccines, for example.
GlaxoSmithKline has some $44.3 billion in annual revenue and 99,000 employees.
The NanoBio deal tightens GlaxoSmithKline's relationship with the Ann Arbor region's life sciences community. The firm also contracts with Ann Arbor-based Compendia BioScience to license the firm's cancer profiling database.

Contact AnnArbor.com's Nathan Bomey at (734) 623-2587 or nathanbomey@annarbor.com. You can also follow him on Twitter.