Posted on
Sat, Sep 15, 2012 : 5:56 a.m.
Emergency Veterinary Hospital of Ann Arbor offers 24-hour emergency care for pets
By Angela Smith
Veterinarian Lindsay Ruland graduated from Michigan State University in 2009 and says that, upon graduation, she knew she wanted to open a 24-hour emergency care facility for animals.
Her husband of five years, Chris Ruland, earned a business degree from Eastern Michigan University and had been working as a grant manager for the county. But the two had been talking about opening a business together for years, even as sweethearts at Ann Arbor's Huron High School.
"It works out well; we really complement each other," she said. "We knew this is what we wanted and we were very diligent about our finances and everything else in our life so that we would be able to set this place up… it's really gone well for us."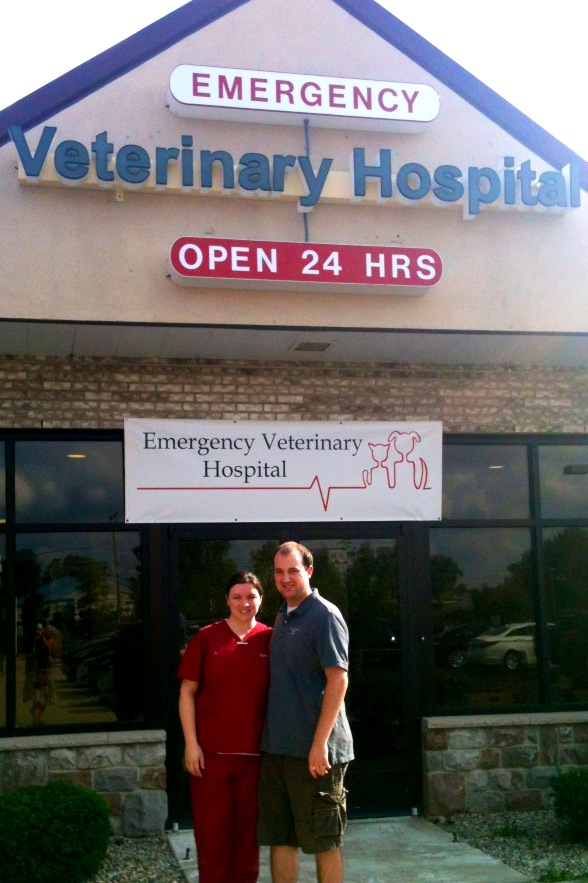 Angela Smith for AnnArbor.com
Other vets have known about the Rulands' plans to open the Emergency Veterinary Hospital of Ann Arbor, she said, and have been eagerly awaiting its opening so they can have a nearby around-the-clock facility that they can refer their most critical and exotic patients to.
The hospital, at 5245 Jackson Road in Ann Arbor, operates in approximately 5,000 square feet of space in the shopping plaza just east of Zeeb Road, near Scio Township. It has four exam rooms, an isolation ward, 27 kennels for overnight keeping, a large indoor dog run, a surgical suite, an exotics ward, digital x-rays and ultrasounds, and 24-hour emergency and critical care.
"We're really committed. The reason we opened this place is we want the patients to get the best care they can get, and we want it to be affordable," Lindsay Ruland said.
Preparing the business for opening has not been easy. The Rulands, both in their late twenties, have 14 full-time staff, plus three full-time and three part-time doctors. When I spoke to Lindsay, she was just coming off of a 72-hour shift, and she and Chris were preparing to leave for a 10-day conference the next day.
The Rulands share their home with two toddlers, two large dogs, a "geriatric cockatiel" and two newly acquired kittens. One of the children, who are ages 1 and 3, needed emergency medical treatment in Texas just as the business was gearing up to open. The calm, collected demeanor that makes the Rulands a successful business team also helped them through the trials they faced during that time.
"There have definitely been some very stressful times, but we're an interesting husband wife team, I think," Lindsay said. "Most people, things like this would tear them apart, but for us it just makes us stronger."
"We opened two months ago on the Fourth of July," said Chris.
"We knew we had to be opened, we didn't want to miss another summer holiday, because so many vets are closed on the holidays, and we were already getting so many calls every day," Lindsay added.
"The Building Department was really gracious and did everything they could to help us get us a temporary certificate of occupancy. Our contractors ran with our money right before we opened," leaving much of the final work undone.
Two exam rooms still await completion, and the Rulands installed flooring, painted walls and did light carpentry work during their first months in business. "We are still doing the rest of it on our own, in our spare time" Lindsay adds with a laugh.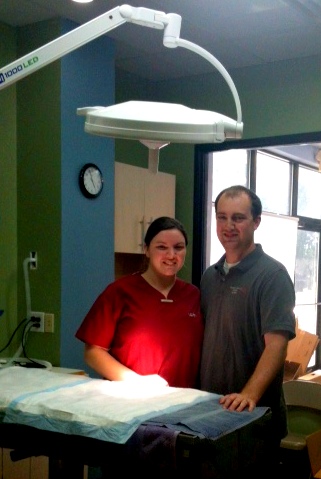 Angela Smith for AnnArbor.com
"But it's been busy, we haven't even had time to finish construction enough to have our open house yet. We anticipated that the first couple of weeks would be a little slower than they were. We've grown really quickly."
The area's need for an animal hospital was evident to the Rulands. "There is nothing worse (as a veterinarian) than having a really critical animal, and asking the owner to come pick them up in the morning and drive them across town to their regular vet, and then bring them back the next night. It's just not safe for the animal."
The Emergency Veterinary Hospital sees many dogs and cats, but also serves exotic pets. Within the first eight weeks of opening, the veterinary team performed an amputation for a bearded dragon and an emergency surgery on a four-week-old peacock. A potbellied pig with complications due to neutering was expected in at any time during our interview. "We really just have to be prepared for anything and everything that could happen," Lindsay said.
The Rulands say the hospital's location is perfect for them, easily accessible and able to serve patients outside Ann Arbor, as far west as Jackson and as far east as Wyandotte. "We couldn't be happier," Lindsay said.