Posted on
Thu, Dec 17, 2009 : 2:45 p.m.
Ann Arbor's Rick Snyder, Michigan gubernatorial candidate, says MEDC incentives 'out of control'
By Nathan Bomey
Ann Arbor businessman and Republican gubernatorial candidate Rick Snyder, the first chairman of the Michigan Economic Development Corp., released a plan today calling for a major restructuring of the MEDC.
Snyder, calling for "common sense" economic development policies, said he would seek to reduce the number of tax incentives distributed by the state to various industries.

"It's gotten out of control," he said in an interview. "There should be very limited use of tax incentives."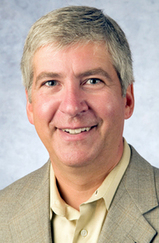 Snyder said the state's 10-year, $2 billion 21st Century Jobs Fund - which was meant to create jobs by providing low-cost financing to entrepreneurial companies - was well intentioned, but mismanaged. The state didn't handle the spending process efficiently, he said.
"That's a great illustration of a misfire," he said.

Instead, Snyder, who served as the first chairman of the MEDC in 1999, called for the state to implement wholesale tax reform to make a Michigan more competitive place to do business. He's previously called for the state to eliminate the Michigan Business Tax.

Snyder, former president of computer maker Gateway Inc., is CEO of Ann Arbor-based venture capital firm Ardesta and former chairman of Ann Arbor SPARK and Ann Arbor tech company HandyLab.

Snyder is running for the Republican nomination opposite several longtime politicians, including Attorney General Mike Cox, U.S. Rep. Peter Hoekstra and Oakland County Sheriff Michael Bouchard. Michigan Lt. Gov. John Cherry is generally considered the favorite to win the Democratic nomination.
Snyder's proposal comes as some state lawmakers are beginning to question the effectiveness of aggressive film industry credits and other economic development strategies the state has pursued.
"MEDC's policy is to not engage in the political fray by commenting on campaign proposals," MEDC spokeswoman Bridget Beckman said in an e-mail. "And it would make for a very long year if we started now."
The state's business incentives have earned uneven remarks from economists, politicians and community members. Firms like Google, General Electric and Barracuda Networks have opened up operations in the Ann Arbor region in part due to tax incentives.

Barracuda, for example, has already hired several dozen workers for its operation on Depot Street in downtown Ann Arbor. Google, however, which got incentives in 2006 with a promise that it would hire 1,000 workers in Ann Arbor by 2011, is believed to have between 200 and 250 workers here right now.
"The reality is the amount of the credit is always tied to the number of jobs that are created and the value of the income taxes that will be generated by those employees," MEDC CEO Greg Main told AnnArbor.com in August. "If there is no job created, then there is no benefit paid out because there is no tax revenue. It is a self-funded, pay-for-performance program."
Snyder said Michigan's economic development process had gotten "politicized too much."
"It started the right way, got off to a good start and then became an opportunity for politicians to get involved in a process they don't belong in," he said.
Snyder's plan:
• Calls for the state to implement and publicize performance audits detailing whether its economic development programs are working.
"Incentive programs that do not add value to economic development or aren't worth the cost should be discontinued," the plan says.
• Calls for the MEDC to reduce its level of staff and rely more heavily on small business people for leadership on its board. The plan suggests that the board should be "led by an executive team of business professionals, not political appointees."
• Would require MEDC to rely heavily on a network of "regional economic development partners" -- such as SPARK, Kalamazoo-based Southwest Michigan First and Detroit-based TechTown -- to attract businesses and talented workers.

• Create a statewide program via a new Web site, startup.mi.gov, to help grow Michigan's entrepreneurial community. This organization would foster the creation of business incubators and other economic development groups.

• Form an MEDC-led initiative to help small companies secure financing such as government grants, microloans and venture capital funds.
Contact AnnArbor.com's Nathan Bomey at (734) 623-2587 or nathanbomey@annarbor.com. You can also follow him on Twitter.