Posted on
Fri, Dec 9, 2011 : 5:58 a.m.
Ann Arbor's VA hospital seeking 26,000 square feet for research center
By Nathan Bomey
The Veterans Affairs hospital in Ann Arbor plans to move a 150-person research division out of its facility, clearing room for more clinical space.
The VA Ann Arbor Healthcare System, part of the federal government's Department of Veteran Affairs, plans to relocate its Health Services Research & Development Center of Excellence to space somewhere near its medical center on Fuller Road.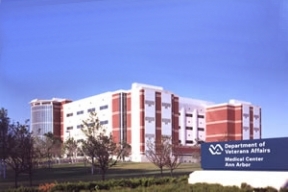 Photo courtesy of VA Hospital
The government is seeking a five-year lease for about 26,000 square feet of contiguous space,
according to a listing posted on its website
.
The listing represents a significant opportunity for local property owners and brokers because the federal government is considered a premier tenant.
The move would consolidate operations that are currently separated into four locations, said.
Eve Kerr, director of the hospital's Center for Clinical Management Research and a professor of internal medicine at the University of Michigan Medical School.
"It's an interdisciplinary kind of science that we do, so having people in many different locations is not ideal," Kerr said. "Bringing people back together in one place will enhance our efforts."
Derek Atkinson, an Ann Arbor-based VA spokesman, said the hospital is "trying to create more clinical space."
"We've been leasing property off site and putting our administrative folks who don't need to be face to face with veterans off site where they can do their job just as effectively," Atkinson said. "That way we can free up more space here so that veterans can be seen for specialty care and the different services we offer."
The VA Ann Arbor Healthcare System serves more than 150,000 veterans living in a 15-county area in Michigan and northwest Ohio. The hospital, which has 101 acute care beds and 46 nursing home beds, and community living center treated nearly 6,000 patients for inpatient stays and recorded about 455,000 outpatient visits in the 2010-11 fiscal year.
The Washington headquarters of the VA, working with a brokerage firm in Washington, is handling the property search.
The government is seeking space on one or two floors, at least 190 parking spaces and a 5-year lease that includes five 1-year options. The VA wants to be near public transportation and "commercial services" such as restaurants and banks.
The Health Services Research & Development Center of Excellence researches ways improve health care delivery to veterans with an emphasis on patients with chronic diseases, mental health conditions and recovery complications.
Kerr said she envisions gradual growth for the center. The center is seeking space that would allow for personnel growth of 10 to 15 percent over the next five years. The center gets about $13 to $16 million a year from grant funding, she said.
"Our goal is to continue to be successful with continued collaboration with one another, to seek additional funding and that will mean additional investors and additional staff," she said.
Contact AnnArbor.com's Nathan Bomey at (734) 623-2587 or nathanbomey@annarbor.com. You can also follow him on Twitter or subscribe to AnnArbor.com's newsletters.