Posted on
Mon, Jul 23, 2012 : 5:58 a.m.
Ann Arbor's Vie Fitness expands retail boutique area
By Angela Smith
Heather Dupuis describes Ann Arbor as "smart, interesting people in a low-key town." After moving here from Vancouver in 2002, she created Vie Fitness and Spa with "a vision of creating a place that inspired me every day." She opened Vie, at 209 S. Ashley St., a fitness studio offering fitness services, spa amenities, and food offerings, in a space that reflects Dupuis' inspiration from big cities such as New York, Chicago and Vancouver.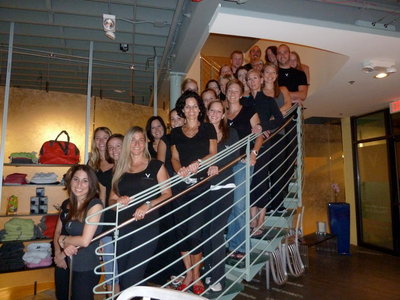 photo courtesy Vie
Ten years later, Dupuis remains inspired, and said her business has seen growth every year. This month, the business is expanding its boutique area to include four new lifestyle brands. To accommodate the changes, the bistro area has been redesigned to make way for up-and-coming boutique lines.
"We've offered lululemon for many years (which our clients love), and they've been asking that we offer more lines," said Dupuis. "There was a clear demand."
Dupuis works with staff like Leslie Sapp, to seek out unique retail stock that is not yet been discovered by other boutiques. In the coming weeks, Vie will add merchandise from Anatomie, a high-performance sportswear line that is gaining popularity in Europe, Lorna Jane, an Australian brand Vie will exclusively be selling in the Detroit area, Will Leather Goods, a brand that offers durable totes, and S'well, a new brand of metal water bottles.
"We've been really lucky," Dupuis said of growing her business. Vie touts 22 employees, plus a dozen or so contracted trainers who really add to what Dupuis calls the "strong culture" of Vie. Dupuis said clients expect new services and products, and this has allowed the Spa to double in size and triple in the amount of services they offer since 2004. Dupuis said 2009 was the toughest year Vie saw, but even that year was "just a hiccup," still showing improvements compared to the year before.
"I love this life," Dupuis said of her shift from Vancouver to Ann Arbor, where she walks to work from the home she shares with her husband and children. "I feel energized by the work I do and the comments I get (from clients)."
Angela Smith is a freelance writer for AnnArbor.com.