Annual Collaboration for Entrepreneurship shows Michigan returning to 'entrepreneurial roots'
Posted on Thu, Jan 21, 2010 : 6:03 a.m.
If you're seeking to measure Michigan's commitment to fostering an entrepreneurial culture, Ann Arbor's Annual Collaboration for Entrepreneurship event provides an anecdotal yardstick of sorts.
The 10th annual ACE event, scheduled from 4-9 tonight at Ann Arbor's Skyline High School, is expected to draw more than 750 attendees. That's up from 550 in 2009 and 300 in 2007.
It's tempting to ascribe burgeoning interest in the event to Michigan's traumatized economy, since experts say that workers are more likely to give entrepreneurship a try during times of economic duress.
But ACE organizers argue that growing interest in the event is reflective of a more meaningful movement in Michigan's economy.

Michigan is slowly embracing its long lost love: entrepreneurialism, said Gerry Roston, chairman of the ACE planning committee and managing partner of Saline-based Pair of Docs Consulting.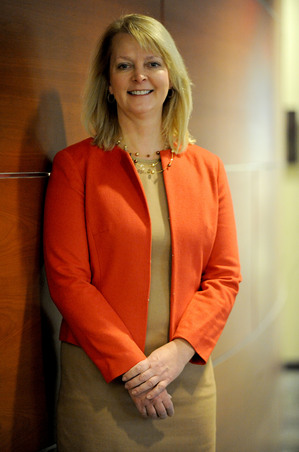 Angela Cesere | AnnArbor.com
"We're seeing Michigan get back to its entrepreneurial roots," Roston said. "We've been beaten down, and I think people realize the way out is not more jobs in automotive. It's creating ideas and new companies and new opportunities for profit."
ACE provides an opportunity for entrepreneurs, investors and economic development leaders to network and discuss emerging trends and issues in their businesses and industries.
"It's gained traction over the years and has gained a reputation as being the place to network and connect with the entrepreneurial community," said
Diane Durance
, executive director of Ann Arbor-based
Great Lakes Entrepreneur's Quest
and an ACE organizer. "For entrepreneurs, it's a chance to really be seen and have people hear about their business as well as to meet people who could potentially be investors or advisers."
For entrepreneurs, the pursuit of investment opportunities is a way of life. But during the economic crisis, it's even harder - and equity financing is expected to be a key theme of the event.
Durance agreed that securing financing is still challenging. But she argued that the state is increasingly developing alternative financing options, such as the Ann Arbor SPARK-managed $1.5 million Michigan Microloan Fund and venture capital dollars provided by the Michigan Economic Development Corp.
"Those things have really been true lifesavers," Durance said. "I can't imagine where we'd be if, as a state and as economic development organizations, we hadn't stepped forward with some of these sources of funds. They've been critical."
Among the highlights of the ACE program this year:
Annual Collaboration for Entrepreneurship

What: An event designed to foster networking and idea sharing among entrepreneurs and investors
When: 4-9 p.m. Jan. 21
Where: Ann Arbor's Skyline High School
Registration: $20 in-person
Expected attendance: More than 750
Web site: www.ace-event.org

-Six startup companies will compete in an elevator pitch competition judged by experienced investors. Participants include Scio Township-based electric motorcycle startup Current Motor Co. and alternative energy firm Algal Scientific, which has ties to the University of Michigan.
-Panelists will discuss a variety of issues affecting entrepreneurs, including financing problems. Speakers include Neogen Corp. CEO James Herbert, U-M professor David Brophy, Young Basile PC attorney Andy Basile, Cascade Engineering chief engineer Jeff Totten and Hennessey Capital President Mike Semanco.
-GLEQ will distribute its bi-annual business plan competition awards at ACE. The competition drew about 177 entries, up from 47 just two years ago, Durance said.

Durance said entrepreneurialism is increasingly becoming a necessity for many people.
"It's about how do you take your skills and abilities and create value," she said. "At a very individual basis, it's the new reality that most people will at some point have to figure out how do they create value on their own instead of contributing their experience to a large corporation."
ACE is a collaborative effort among a variety of organizations, including the New Enterprise Forum, MIT Enterprise Forum of the Great Lakes, GLEQ, SPARK, Michigan Small Business & Technology Development Center and U-M's Technology Transfer Office and Center for Entrepreneurship.
Contact AnnArbor.com's Nathan Bomey at (734) 623-2587 or nathanbomey@annarbor.com. You can also follow him on Twitter