Posted on
Wed, Mar 2, 2011 : 11:23 a.m.
Annual economic forecast for Washtenaw County unveiled at March 10 event; Gov. Rick Snyder is keynote speaker
By Paula Gardner
The annual economic forecast for Washtenaw County will be released March 10 by AnnArbor.com's Business Review during our Outlook Luncheon.
The event, sponsored by the Washtenaw Economic Club, also will feature a keynote address by Gov. Rick Snyder, state officials just confirmed.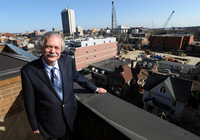 The report is the 26th annual forecast by University of Michigan economists
George Fulton
and
Don Grimes
, who started the effort in 1986 for the former Ann Arbor News. It's the most comprehensive economic forecast available for Washtenaw County, and the average error rate for the first 25 years was 0.6 percent.
Fulton and Grimes are concluding their analysis this week, and AnnArbor.com's Business Review will provide coverage of its contents as Fulton presents it on March 10. In 2010, the report predicted the start of jobs growth.
Snyder, meanwhile, is expected to give his own take on Michigan's economic forecast. He's concluding his first quarter as the state's top elected leader and recently proposed an aggressive budget that seeks to change business taxation, state tax credits and other systems.
The event is sponsored by the Washtenaw Economic Club, which offers four annual speaking events on business topics per year. It also coincides with AnnArbor.com's Business to Business Expo. Both will be at Washtenaw Community College.
Some tickets remain available for the luncheon, which starts at 11:30 a.m. Individual tickets are $75, with season memberships available.