Posted on
Thu, Jul 11, 2013 : 12:33 p.m.
Annual free Slurpee day brings new faces to 7-Eleven and brain freeze to customers
By Ben Freed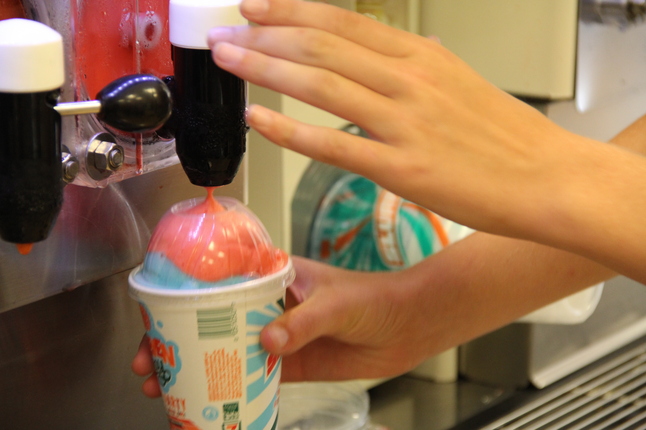 Ben Freed | AnnArbor.com
Note: This post contains Vine videos. You can pause the videos by clicking on them and the volume can be turned on and off by clicking on the speaker icon in the upper left corner.
It may not bring in a lot of extra business in the lucrative sense, but Free Slurpee Day is one of Linda Russ' favorite days of the year at her 7-Eleven convenience store on South State Street.
"Probably only about 2 percent of the people who come in for Slurpees buy something else in addition to the Slurpee," she said.
"But we get more than double the amount of people in here that we do on a regular day and it's just a really fun experience."
Russ said the number of people coming in for the free Slurpees on July 11 (7/11) has been increasing thanks to advertising by the chain on
Facebook
, the radio and TV. For the first time this year, free Slurpees only are available between the hours of 11 a.m. and 7 p.m.
"We had to limit it because of the machines," Russ said. "They were having to run constantly for so long it was bad for them and they would break down."
As hard as the machines work, they often struggle to keep up with the Slurpee demand. Russ said last year the line for Slurpees was out of the store and started to wrap around the block.
Coke and Cherry are the top flavors chosen by free Slurpee drinkers, with Mountain Dew coming in as a distant third. The promotion began in 2002 when the chain celebrated its 75th birthday.
For one Slurpee drinker, the day serves as a pleasant reminder of another day that bears remembering.
"I'm here for the Slurpee and the nice weather makes it even better, but it's also my anniversary," Todd Deland said.
"I've been married for four years now to my wife Jessica and we got married on July 11. We don't bring each other Slurpees as presents, but we will go out for a nice dinner tonight."
Every customer is entitled to one free small Slurpee at each 7-Eleven location, but be warned: with every sip a painful brain freeze is just around the corner if you drink it too quickly.
Russ said the two cures she's heard work best are sticking your tongue to the roof of your mouth or bending over and dropping your head s the blood rushes there quicker.
"But don't hold me to either of those, I don't think there's much science behind it," she said.
For the Slurpee fiends out there, there are four 7-Elevens in Washtenaw County. Two in Ann Arbor — one on South State Street and one on South Main Street — one in Ypsilanti on Ellsworth Road near West Michigan Avenue, and one by the county line in Belleville on Rawsonville Road south of West Huron Drive.
Ben Freed covers business for AnnArbor.com. You can sign up here to receive Business Review updates every week. Get in touch with Ben at 734-623-2528 or email him at benfreed@annarbor.com. Follow him on twitter @BFreedinA2