Posted on
Fri, Nov 12, 2010 : 3:22 p.m.
University of Michigan microcontroller startup leaving Michigan for Texas
By Nathan Bomey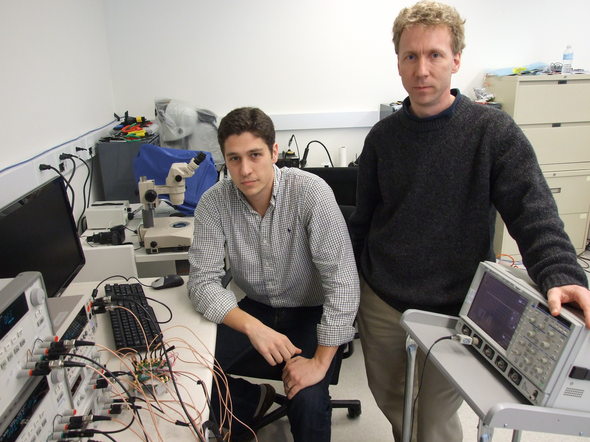 Nathan Bomey | AnnArbor.com
A promising
University of Michigan
startup developing microcontroller technology is moving to Austin, Texas, days after
landing $2.4 million in seed capital
, AnnArbor.com confirmed this afternoon.
The firm, Ambiq Micro, determined that the Austin region offered the best chance of landing the talent to advance its integrated circuitry technology, which improves energy efficiency in wireless electronic applications.
"That's essentially what it boils down to," Ambiq Micro CEO Scott Hanson said. "We really wanted to grow real quickly with the strongest possible, most experienced talent, and that's where the highest concentration of talent is for our business. It's really too bad. I am from Michigan myself and wanted to build the business here, but it's really in the best interests of the company to move down there."
Hanson, who founded Ambiq Micro as a post-doctoral student at U-M, is moving to Texas within days to start building the company. His co-founders, U-M engineering professors David Blaauw and Dennis Sylvester, will remain at the university and continue to consult with the startup.
The company's decision to move from Ann Arbor to Austin comes after the firm announced Tuesday that it had secured $2.4 million in early-stage venture capital from several investment firms. Investors included Houston-based DFJ Mercury, United Kingdom-based ARM Limited, California-based Draper Fisher Jurvetson, Cisco Systems, Ann Arbor-based Huron River Ventures and the U-M student-led Frankel Commercialization Fund.
Hanson said the investors didn't force Ambiq Micro to leave Michigan as part of their investment - a strategy some venture capitalists have been known to employ.
"We have a great group of investors and I think they all wanted to do what was best for the company," he said. "We took a close look at whether we could stay local or whether we should move."
Ambiq Micro, which spun out of U-M earlier this year, won a global industrial business plan competition thus summer, giving the startup access to $250,000 in funding from Cisco and DFJ. The accomplishment was seen as a key validation of Ambiq Micro's technology.
Manufacturing of Ambiq Micro's device was already set to be done in Taiwan. But the engineering jobs the firm plans to add will be based in Texas.
Hanson told AnnArbor.com earlier this year that his firm could have 30 employees in Ann Arbor within four to five years. He said the firm's microcontroller is 25 to 130 times more energy-efficient than currently available technology.
Today, Hanson said the company still has "great growth potential."
"The goal is within the next 12 months or so to have seven to 10 engineers working hard on building a product," he said.
Hanson emphasized that blame for Ambiq Micro's departure should not fall on the shoulders of local leaders. He said his sales leader would be based in Michigan and that the company could still establish a presence in Michigan in the future.
"We still view this as a Michigan company. It's a Michigan success," Hanson said. "I think we've got a pretty tremendous local entrepreneurial community here. We've got all the right resources here."
Contact AnnArbor.com's Nathan Bomey at (734) 623-2587 or nathanbomey@annarbor.com. You can also follow him on Twitter or subscribe to AnnArbor.com's newsletters.