Posted on
Sun, Aug 22, 2010 : 5:57 a.m.
Craft Appliance business survives decades via shift from retail to repair
By Julie Edgar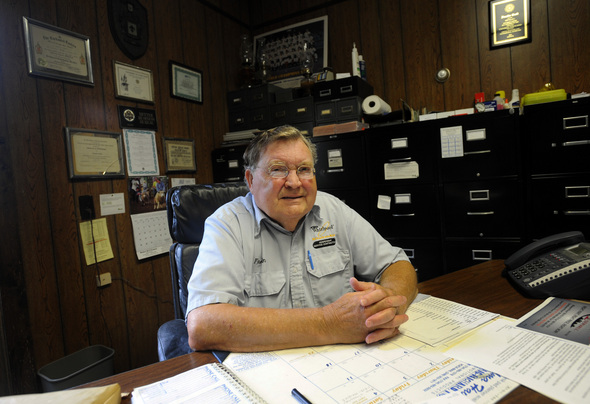 Melanie Maxwell I AnnArbor.com
By all rights, the company Frealin Craft started when he was 18 should have been defunct years ago.
But Craft has adapted well to the times in his five decades as sole proprietor of Craft Appliance. When a Lowe's home improvement store moved in around the block and forced him to shutter his Packard Street retail operation in Ann Arbor in 2000, Craft found a new niche - servicing warranties for appliances sold by appliance retailers. Even Lowe's was among them.
Craft, 72, works out of a warehouse near his Manchester home. He relies on warranty work and a cadre of loyal customers that calls on him when a refrigerator, stove or dishwasher needs repairing.
It hasn't been easy, despite a successful transition from retailing. The emergence of big-box stores like Lowe's and Home Depot added to the hardship of being an independent businessman, but Craft has bumped up against other economic realities as a service company.
"During a slowdown, especially in '07, '08 and '09, if a washing machine breaks down and they can't afford a $100 repair, they'll go to a laundromat until they get back on their feet. With a refrigerator, that's something that has to be fixed, but a dishwasher - they'll do dishes by hand," Craft says.
Still, business is showing some improvement. Craft wouldn't reveal his revenues, but says they are up 20 percent from last year.
"Evidently, the economy is picking up some - not a great deal, but some," he says. Craft is doing well enough now to hire a fourth service technician to work alongside himself, his brother Paul and son Randolph.
The gains nowadays are rather modest. There was a time when Craft Appliance employed seven Craft family members and was ranked 18th in Whirlpool appliance sales in a three-state region.
In the 1960s, when the business was young, Craft says, it thrived on an apartment building boom in Ann Arbor, supplying appliances for the complexes springing up all over town.
Craft Appliance survived the recessions of the 1970s and 1980s, outliving much larger competitors like Fretter Appliance and Highland Appliance.
Craft attributes his staying power to fiscal conservatism.
"Not growing too big - that was the secret. And, I worked hard to build my reputation as being a company that stood behind its work. My customers trusted me and continued sending their friends and family to me, and they still do."
Craft sounds a bit wistful when he describes the early days of Craft Appliance. He admits to missing the experience of meeting and greeting established and new customers.
"I just love talking to people, meeting new people," he said. "That's the secret to sales, anyhow.
"And of course, over the many years, people realized we were honest. I had surgery three years ago and when I woke up, a doctor introduced himself as someone who bought a dishwasher from me in 1980."
Julie Edgar is a freelance writer for AnnArbor.com.