Posted on
Fri, Jul 6, 2012 : 5:58 a.m.
Ann Arbor area restaurants feeling the heat as patio and sidewalk customers move indoors
By Ben Freed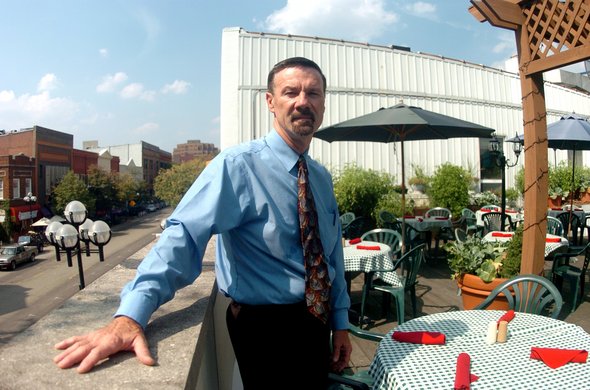 Mike Itchue | Jackson Citizen Patriot
With temperatures reaching 100 degrees this week, customers have been hesitant to take advantage of the extensive outdoor seating opportunities that are a summer staple at
restaurants
in
Ann Arbor
and
Ypsilanti
.
"It wasn't too bad until the last couple of days," Maggie Long, managing partner at the Jolly Pumpkin, said.
"If it's 100 degrees on the sidewalk it's about 110 up on the rooftop deck," she said. "And we have to have staff out there and everything."
Long said that the Jolly Pumpkin has not seen a dip in business because of the heat, but there have been a lot more patrons sitting inside rather than on the patio or the sidewalk.
At Aubree's in the Depot Town area of Ypsilanti, general manager David O'Brien said business has been hurt by the recent weather swings.
"I just had to tell my staff that this is the third week running that we're not having the Depot Town Cruise Night because of the weather. It went "rain, heat, heat,'" he said.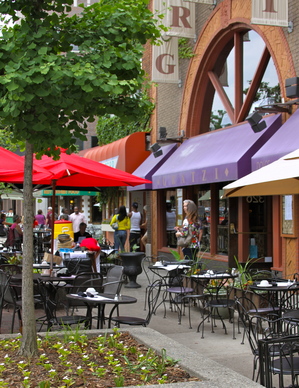 AnnArbor.com file photo
"The biggest effect the weather is having on us is shutting down the events, and just decreasing foot traffic," he said. "No one is going to stop by when they're out on a walk if it's too hot to take a walk."
The outdoor seating at Aubree's doesn't fill up until the sun goes down when temperatures peak, but O'Brien said some people are more than happy to soak up the rays.
"I personally wouldn't want to be sitting out there in that kind of heat, so I ask them if they'd like a table inside," he said. "They say, 'No way, we just love the sun.'"
Sun-lovers have also been taking up seats at Seva in downtown Ann Arbor, where manager Jill Lemens says temperatures have not affected her patio crowd.
"It can sometimes be a bit of a hard sell," she said. "But it gets packed, especially on the weekends when people just want to be outdoors."
Marc Freund's whole business is outdoors, but his Dad's Dogs hot dog cart has been kept off the street this week because of the heat. He said it's due to a combination of lack of customers and his own aversion to the conditions.
"With a hot dog cart, you're basically standing next to a heater for however long you're out there," he said.
"The other problem we've had this week is that it's not just the heat, but you don't know when it's going to rain. I don't like getting wet, and the umbrella is only so big."
Freund said when he sees food being delivered to office buildings he knows it's going to be a slow day, and he doesn't blame people for wanting to stay indoors.
"Whether they're in a spacious office or a little cubicle, they've got air conditioning. It makes sense they'd want to stay inside," he said.
"I've found that when it's between 65 and 85 degrees is a really nice time to be selling hot dogs. If it gets too much colder or too much hotter, business goes downhill."
For other Main Street restaurants in Ann Arbor, the outdoor dining picks up after sundown.
"When it gets over 100 degrees, we close down the patio's and guests move inside. People just do not want to be out in this heat," Jon Gould, a district manager for Palio and Real Seafood, said.
"We are also finding that guests are coming out later in the evening, generally after 8pm when it cools down a bit."
Business on the patios will likely be slow through the weekend. Highs will remain in the 90s through Sunday according to Weather Underground.
Ben Freed covers business for AnnArbor.com. Reach him at 734-623-2528 or email him at benfreed@annarbor.com. Follow him on twitter @BFreedinA2