Posted on
Thu, Dec 2, 2010 : 6:01 a.m.
Arthur's owner undertakes effort to clean up Ypsilanti Township bar
By Tom Perkins
Tom Perkins | For AnnArbor.com
Gary Miller can vividly recall some of the more colorful moments from the early days of Arthur's Bar in Ypsilanti Township. Opened in 1985, it became biker favorite, leading to problems with fights, drugs and an armed robbery that cost him $23,000.
But since Miller has taken over, Arthur's is no longer the biker dive it once was.
Instead Miller is transforming the once rough and tumble watering hole at 817 E. Michigan Ave. into a no-frills neighborhood bar. With its past shed, he hopes to attract a less rowdy crowd and offer a cleaner place "to get a good burger and beer and listen to the jukebox."
Miller recently bought out his business partner and brother-in-law, Jack Muthler. Muthler owned 50 percent of the bar but never considered investing to fix it up, so Miller bought him out for $50,000. Over the summer Miller invested $12,000 in general renovations and improvements.
As part of the makeover, the bar has new siding, a new roof, tiled floor in sections instead of old carpet and a new pool room, and the parking lot will soon be paved. A front window that was once filled in with cinder block has been opened up, and sun shines where it literally and figuratively didn't previously.
With the building brought up to code and back taxes paid, Miller believes he has attended to Arthur's most pressing physical needs. But much of the problem was the old crowd that frequented Arthur's. Miller established a new set of rules that has largely driven away the bikers.
Because most people driving down Michigan Avenue wouldn't want to stop at a bar where 20 motorcycles are parked out front, Miller says, he now requires bikes be parked out back. Bikers can't bring in their helmets or wear gang colors, so most just don't go there any longer.
Miller, who estimated he gross's $12,000 monthly, said the rules have slowed business in the short term, but he's breaking even and doesn't deal with the multitude of problems he once did. He says he'll take the trade off.
"It might be slow now, but I don't have the trouble I used to have," he said. "I can leave and go to sleep and not be worrying about someone getting hurt down there."
Miller recognizes the bar's reputation, and knows he is taking a risk, but he said he's determined not to give up after investing so much of his life there. He would rather attempt to clean it up and fail than just walk away, he says.
"I think I can turn it around and clean it up," Miller said. "I'm not pumping all this money into it for some idiots to come down, start fighting and wreck the place."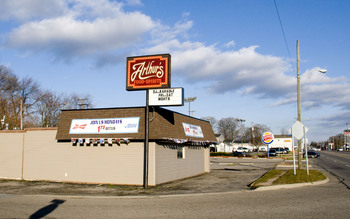 Tom Perkins | For AnnArbor.com
Miller now controls the mortgage, on which $100,000 is still owed. He said the economy provides a significant challenge, but he thinks with some perseverance, he can succeed.
Miller described Arthur's as a "goldmine" when he and his brother-in-law first opened it in 1984. In those days, workers from Ford, GM and Ypsilanti Township's other industries filled the bar. They cashed their paychecks at Arthur's and spent a chunk of it there, as well.
While the paycheck cashing proved lucrative, it also led to the armed robbery that cost Miller $23,000, and he gave up that service. Still, the bar did well until the area's industrial base declined. The poor economy only compounded the issues.
Until recently, Miller only kept the bar open Wednesday through Saturday nights, but Arthur's doors are open Sunday through Tuesday again. As soon as Miller gets some good waitresses and bartenders to help him, he says he plans to offer lunch specials to help attract a daytime crowd.
In keeping with the no frills approach, the menu offers a good burger and fries and other bar fare.
"I'd like to bring the bar back to where it was, but without all the fighting," he said. "I've been running it and I know what it consists of and know what needs to be done. Now that I own it and with my name on the liquor license, I can spend more of my time and money there and make it work."
Miller is a life long entrepreneur who owned his own Canton-based trucking company and a Coney Island in Livonia. He said he could have bought any bar in Ypsilanti Township with his money but is hopeful the township can continue to improve the strip of East Michigan Avenue near Ecorse Road.
Improving Arthur's is his contribution to that effort, he said.
"They're trying to clean up the mess around there, so if they're trying to do that, I sure can put my money in there and try to fix it up, too," he said. "I just want to fix it up and have a nice, little clean place."
Tom Perkins is a freelance writer for AnnArbor.com. Reach the news desk at news@annarbor.com or 734-623-2530.