Posted on
Sun, Apr 4, 2010 : 5:59 a.m.
As Hollywood Video closes Ann Arbor stores, laid-off employee wonders what's next
By James Briggs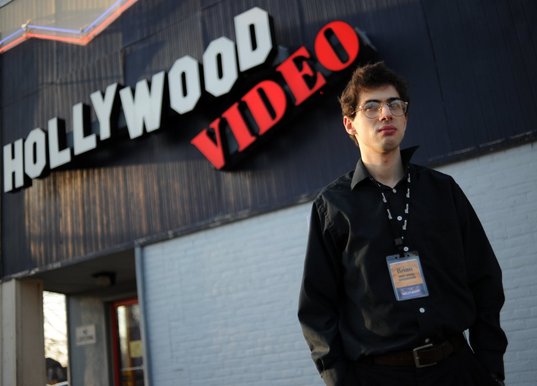 Melanie Maxwell | AnnArbor.com
When
Hollywood Entertainment Corp.
closed two Ann Arbor Hollywood Video stores last week, several employees lost their jobs.

Most of those laid-off employees will look elsewhere and eventually find new jobs. But Brian Napoleon, 29, worries perhaps more than the rest about what his next move will be.

Napoleon, who was born with cerebral palsy, started working for Hollywood Video in 1999.
"I was doing returns - shelving videos and DVDs, straightening things up," Napoleon said.

That gig ended Tuesday, though, when Hollywood Entertainment closed its stores at 2111 Packard Street in Ann Arbor and 4080 Packard Road in Pittsfield Township. One store remains open at 2360 West Stadium Boulevard.

Napoleon's manager left open the possibility that he could transfer to the West Stadium Boulevard location, he said, but later told him the company would not approve the transfer.

"The manager wanted to transfer Brian to the Stadium store, but a new corporate policy prevents him from doing that," said Davi Napoleon, Brian's mother. That policy, she added, requires employees to handled all tasks, including the register, which Brian is unable to do.

Calls placed to Hollywood Video's corporate offices were not returned. Brian and his family, though, are not upset at the company.

"Everything has its ups and downs," Brian said.

The store's managers, Davi added, "were supportive of Brian right from the beginning."

The challenge is for Brian to find work in an economy that lately hasn't been kind to anyone. The Ann Arbor area's unemployment rate in January was 9.3 percent - up from 7 percent a year earlier, but still the best in Michigan, according to state officials.
Times have been particularly difficult for people with disabilities, said Helen Ledgard, who oversees business development for the Ann Arbor Center for Independent Living.

"People with disabilities work in a lot of jobs that are going away," Ledgard said. "People with disabilities are bearing the brunt of the global economic shift."

Some organizations, like Blue Cross Blue Shield of Michigan, go out of their way to hire people with disabilities, Ledgard said, but others are hesitant - especially in a sluggish economy.

"There are discrimination issues that get in the way of hiring a great person with a disability because of misconceptions about what that will entail when the employee is on the job," Ledgard said.

"When there's a surplus of workers here looking for jobs, it's really easy to pass up a candidate with a disability. We try to support skilled and talented job-seekers and try to level the playing field."

Finding a job hasn't been an issue for Brian since he was a teenager and the economy was still booming. Like any other job-seeker, he isn't quite sure where to start.

"We haven't been actively looking for too long," Davi said. "I think the kind of work Brian would enjoy is things like working in a library, or working in another book store."

Brian is even less definitive about what he'll do next. "Who knows?" he said.