Posted on
Thu, May 5, 2011 : 5:55 a.m.
As we learn what Snyder meant by 'reinvention,' where does that leave his early call for transparency in governing?
By Rick Haglund
What did Gov. Rick Snyder know and when did he know it?
I've been asking myself that question a lot lately as our new governor has issued one sweeping reform after another on taxes, education, local government and other issues.
Those of us who followed his campaign for governor — and I followed it pretty closely — heard nothing from Snyder about how he planned to hike taxes on pensioners, allow emergency financial managers to break labor contracts and cut education funding.
Only now do we know what Snyder meant when he spoke passionately, but vaguely, throughout the campaign about how he planned to "reinvent" Michigan.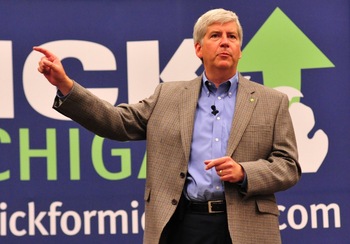 Ryan J. Stanton | AnnArbor.com
My purpose here isn't to judge the merits of Snyder's various proposals. In general, I think he's correct in saying that Michigan must overhaul its tax structure, improve its educational system, and get state and local government budgets in order.
But shouldn't Snyder, who's all about transparency in government, provided more of it on the issues during the election campaign?
If nothing else, he might have saved himself the aggravation of the recall campaign being waged against him.
Voters probably knew less about Snyder than any other governor-elect in memory when he defeated Democrat Virg Bernero in November.
Not that Bernero, the mayor of Lansing, was all that clear on important fiscal issues. Bernero repeatedly ducked questions about how he would solve a looming state budget deficit by saying he'd repeatedly balanced Lansing's budget without raising taxes.
But Snyder was a virtual unknown outside of his Ann Arbor home when he ran his first campaign television ad during the Super Bowl in February declaring he was "one tough nerd."
Unlike most gubernatorial candidates, Snyder had no political track record to judge. He'd never held elective office. He declared himself a Republican, but even many Republicans weren't sure if he was one of them.
His most specific proposal during the election campaign was to dump the convoluted Michigan Business Tax and replace it with a 6 percent corporate income tax.
Snyder said the reform was needed to boost Michigan's ailing business climate. He acknowledged the plan would blow a $1.8 billion hole in the state budget, but wouldn't say how he would fill it.
Now we know that Snyder apparently was planning to balance the budget by raising taxes on pensions, eliminating tax credits for the poor and delaying a previously approved reduction in the personal income tax rate.
I say "apparently" because I'm pretty sure he's been thinking for years about how he would reinvent Michigan.
When Snyder, a former Gateway computer executive, returned to his native Michigan in 1997 to become a venture capitalist, rumors soon started circulating that he wanted to be governor.
Few outside of his inner circle took those rumors seriously, but they proved to be true.
Rich Robinson, of the Michigan Campaign Finance Network, a watchdog group, said he doesn't blame journalists for not holding Snyder accountable during the campaign. He said he thinks they did the best they could.
As one exasperated reporter said on television during the campaign, "What were we supposed to do — waterboard him until he answered our questions?"
Rather, Robinson said the slight majority of voters who have said in recent polls that they don't like what Snyder is doing have only themselves to blame.
"Candidates won't offer specifics unless voters demand it," Robinson told me. "If a candidate can get away with platitudes and vague suggestions, and if that's satisfactory to the voters on election day, so be it."
Email Rick Haglund at haglund.rick@gmail.com.